Farragut native gives gift of life to best friend's husband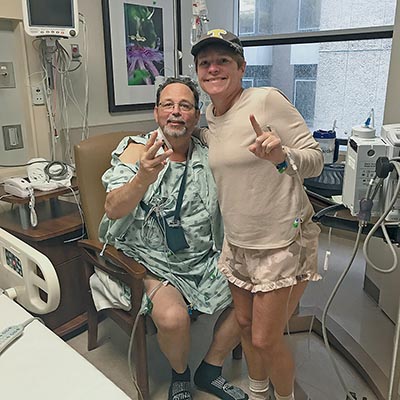 Marshall Jones, left, received a kidney from his wife's best friend, Katherine Millikan Davis, last August. Both are pictured following the surgery in Texas.

Love shows itself in many ways, but rarely as sacrificially as the life-saving one Katherine Millikan Davis made last year.

Following many prayers and considerations, the Farragut native donated a kidney to Marshall Jones, the husband of her long-time best friend, Christy Patterson Jones, last August.

"I love Christy and Marshall and I consider them part of my family," Davis said. "It was never a question of 'Why?' — but 'why not?'

"Through prayer, I always felt that after all the testing, that if I ended up a match, that I was meant to donate to him. And now, there's nothing better than to hear and see the difference it's made in his life," she added.

Christy and Davis' random first meeting was as Farragut High School sophomores in the fall of 1983, and they quickly fell into a tight friendship. After graduating in 1986, the two maintained a very close bond and stayed in each other's lives, even as Christy moved away from the area, eventually settling in Texas after marrying Marshall in 2002. The move simply expanded their circle, as Davis, and by then, her husband, Guy Davis, grew to care for Marshall, too. So it was a shock when Marshall became gravely ill in 2004 with an MRSA staph infection, while also suffering from what was later confirmed as undiagnosed diabetes.

"He was on a ventilator for two weeks and was in the hospital for a month," said Christy, who added that during this time, his kidneys also shut down and "never came back all the way."

Marshall saw a kidney specialist from that time on who warned the couple: whenever his kidney function diminished to 20 percent he would require dialysis.

That dreaded time finally came nearly two years ago, and the couple knew it was the beginning of something that would end only one of two ways.

"When you start dialysis, you take it forever if you don't get a kidney donation," Christy said.

"She told me what was going on," Katherine said. "I had gone to see them, and I saw him getting slower, and saw how he couldn't enjoy their family vacations. At some point (in 2017), Christy mentioned Marshall was on the list, and I asked her to send me some information about kidney donations."

Katherine said she did a lot of reading, research and "praying" before contacting the kidney donation center at Marshall's hospital, Houston Methodist, to start the process.

The center quickly responded, and she flew there to undergo a barrage of tests to evaluate her health and check her compatibility.

Doctors determined Katherine to be very healthy, and a universal donor, which meant she could donate to anyone.

"(Marshall and I) ended up being not only a match, but a good match," she said. "It was about as good of a match as you can get without being related."

While Marshall knew of the special bond between his wife and Katherine, he said, "It blew me away to think she would suggest that. I couldn't have asked anyone to do that, but that is just the kind of person she is."

Katherine, who works for Knox County Register of Deeds office, said she saved her time off in anticipation of the surgery and recovery period. All of her medical bills were covered by Marshall's insurance company, and Christy and Marshall took care of her transportation costs.

Guy Davis was "very supportive" of her decision, as was the rest of her family, Katherine said.

The surgery was Aug. 28, but Katherine arrived a week early for pre-op purposes. Her procedure took took two to three hours, while Marshall's took a bit longer.

Following their release from the hospital, both couples stayed together in a nearby hotel suite for 10 days until Katherine could be released by doctors for her to return home. "Christy and Guy took care of us," she said.

Marshall's positive reaction to the new kidney was almost immediate, his wife said.

"He has done fantastic," Christy said, noting he is down to an every other month evaluation following the transplant.

"I feel great," Marshall said in a telephone interview.

Katherine said she experienced some discomfort in the immediate days. "Pain was tolerable, but recovery was quick," she said, adding she was able to work just four weeks after the procedure.

"I just want people to not be afraid to consider doing this. I would do it again if I could."

While she will need regular check-ups periodically for the rest of her life, Katherine said the only real change for her has been doubling her water intake.

She traveled back to Texas for her successful six-month check up earlier this year, and the trio celebrated by attending a Duran Duran concert in New Orleans.

"I love Katherine, I will always love Katherine," Christy said. "She is a hero."

They aren't able to see each other as much as they would like, but Christy and Katherine were able to get together again earlier this month to attend CMA weekend in Nashville.

Christy jokes that "there is a little part of Katherine with me all the time" now, but gets serious when she says, "I just hope she knows how much we appreciate what she has done for us, and how much I admire her selflessness.