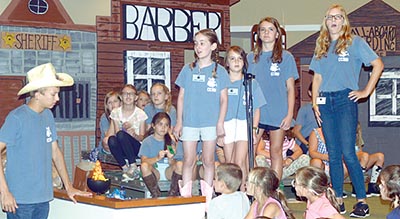 Jonah, portrayed by Will Dubes, left, talks to cowgirls, from left, Ashley Archer, Kirra Benchabbat, Libby Benchabbat and Lauren Dubes, as they practice their lines for "A Whale of a Tale from the Good Book," which was part of Christ Covenant Church P.C.A. Music Camp Friday, June 21.

Children at Christ Covenant Church P.C.A. and the surrounding area sang the story of Jonah and enjoyed some Vacation Bible School experiences as well at the church's first Children's Music Camp.

The event for rising first- through sixth-graders, which took place at the church, 12915 Kingston Pike, started Monday, June 17, and culminated with a musical performance, "A Whale of a Tale From the Good Book," Friday evening, June 21.

"We were looking to do something different in the summer from what we've done here in the past," said Karen Trent, CCC Children's Ministry director. "We wanted to incorporate the music with a type of VBS.

"We did snacks, we did recreation, we did arts and crafts, and we all tied it back to the story of Jonah," she said.

The production, written by Cyndi Nine, Rob Howard and David Guthrie, is set in the Wild West.

Among those cast in lead parts were: Will Dubes, Jonah; Lauren Dubes, Mabel; Olivia Anselment, Swifty, the telegraph operator; Jackson Archer, Marshall; Katharine Landry, stagecoach driver; Nora Dean, carnival barker; Noah Purcell, shady citizen; Jesse Boyle, sheriff; and Haddie Boyle, mayor.

"We have some middle school and high school vocalists/counselors who have helped us all week," Trent said. She also recognized Chris Blake, CCC's set production designer.

"We first chose a director, Sarah Dockery," Trent said. "Sarah has a lot of experience in church directing with children, as well as adults.

Aja Grimes, a CCC member who also has a music camp background and also is a Concord Christian School teacher, assisted Dockery.

Recreation included games, water balloon fights, themed snacks, arts and crafts and Bible memory versus.

"We sat down the first of January, decided on a theme and a date then advertised in the community and our church family," Trent said. "We set our goal for 50 children and ended up having 63.

"We really want the kids to have a great time learning about the gospel, that they could go out and share the gospel with their friends in a fun way and they'll come back next year," she said.