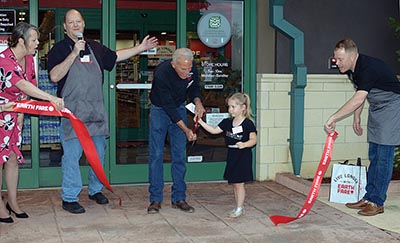 Tom Bahl, center with scissors, Earth Fare senior director of new openings and renovations, cuts the ribbon with assistance from Maybel Nelson, Earth Fare princess, as the company re-opened its Turkey Creek store Saturday morning, June 22. Joining them, from left, are Farragut West Knox Chamber president/CEO Julie Blaylock, Earth Fare assistant manager Andre Nowading, and Russell Friend, vice president of operations.

Following renovations, Earth Fare launched the re-opening of its Turkey Creek store (10903 Parkside Drive) with a ribbon cutting, hosted by Farragut West Knox Chamber of Commerce, Saturday morning, June 22.

"We are very, very excited about the renovations and what it means for our Knoxville shoppers," said Andre Nowading, assistant store manager for Earth Fare Turkey Creek. "We've updated as much as possible, brightened the entire store and have great new products that we look forward to introducing to the community."

"We've been in the community for 15 years, serving healthy food to the community," Tom Bahl, Earth Fare senior director of new store openings and renovations, told the crowd. "We dressed up the store for you, and I hope you enjoy all the renovations that we put in."

A line already formed at the door by 6 a.m., to take part in the mystery gift card giveaway and see the store's changes.

A $1,000 donation to Earth Fare's Give Back partner, Beardsley Community Farm, also was part of the celebration.

As a result of supporting Earth Fare, Charlotte Rodina, farm manager with Community Action Committee's Beardsley Community Farm, said patrons also were supporting Beardsley, an urban demonstration site promoting food security and sustainable urban agriculture.

The store's renovations included a refreshed, more open layout and clearer sight lines so shoppers can "more easily find the clean, healthy items they're looking for," said Laurie Aker, an Earth Fare corporate spokesperson.

"We also updated store fixtures and signage in keeping with Earth Fare's current branding," she added.

Construction began mid-May.

"Earth Fare's store design and overall look and feel has evolved since the store opened 15 years ago (June 23, 2004)," Aker said. "We are grateful for the support of the community and want to reinvest in the store so that our loyal shoppers can experience the same Earth Fare brand and assortment as our customers in newer markets."

The store is open from 7 a.m. to 10 p.m. seven days a week.

The Turkey Creek store also celebrated its 15th anniversary June 23.

"Earth Fare is proud to carry the largest selection of organic and non-GMO products in the industry — including fresh produce," Aker said. "But what sets Earth Fare apart from other grocery stores is our adherence to a strict "food philosophy" that ensures that all products sold are free of high-fructose corn syrup, artificial fats, artificial colors, artificial preservatives, artificial sweeteners, bleached or bromated flour and are never administered antibiotics or growth hormones.

"The 'food philosophy' is supported by Earth Fare's pioneering 'Boot List,' which outlines hundreds of harmful additives that have been banned from the store.

"In addition, Earth Fare's private brand food products are made with non-GMO ingredients," Aker added.