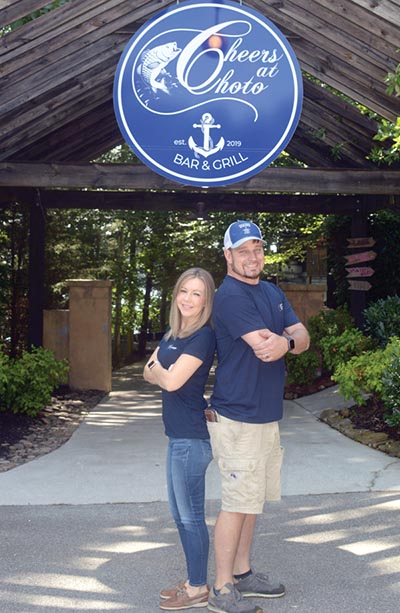 Amy and Nicholas "Nick" Batson have opened Cheers at Choto Bar & Grill, 2600 Whitten Lane, to offer the boating community a relaxed, intimate dining and bar experience. It is located about half a mile from Choto Marina, along Choto Road.

Nicholas "Nick" and Amy Batson are toasting the opening of their new life venture, Cheers at Choto Bar & Grill.

The Farragut couple opened the restaurant and bar Saturday, June 1, in the former Willie's Bar & Grill, 2600 Whitten Lane, about half a mile from Choto Marina, off Choto Road.

"My husband's idea was he wanted to open a family business and all of us work here as a family," Amy said.

Their son, Dakota Batson, 19, works in the kitchen, while other children, Tristin Bogue, 9, and Aden Bogue, 12, helps in the dining room.

The bar and grill offers an intimate, casual atmosphere, where boaters can come to relax and eat, families can gather to play fooseball and an iron worker can mingle with a corporate executive, Nick observed.

"There's been a lot of commotion about this place," he said. "Everybody's real excited it's open. It's got a lot of good reviews."

"It's been very busy," Amy said. "We thought we were going to be busy but not quite as busy as we have been, so we decided to close on Monday just to, kind of, give us a break from the weekend."

However, the Batsons said they plan to re-open on Mondays when football season starts.

Cheers at Choto serves up "bar" food along with healthier menu choices, such as a "Get it Keto" pizza with cauliflower crust.

"We have a little bit of everything," Amy said.

The establishment has three bars, each having a different atmosphere.

The upper level consists of a sports bar with darts, shuffleboard and pool, as well as an outdoor deck area.

"We just, kind of, want to make this like your neighborhood Cheers," Amy said, adding groups can rent out the sports bar for family or other gatherings.

The mid-level consists of an indoor "go-to" bar and a covered outdoor family- and dog-friendly patio dining room, which faces the lake.

"You can walk in from the lake and get a drink while you're waiting to be seated on the patio," Amy said.

While open during the summer, she added they plan to enclose the dining patio during colder months, so it will be open year-round.

The lower level is the tiki bar, where the Batsons have live music on the weekends.

"My husband actually built the tiki bar and the ledges" in the sports bar, Amy said.

They chose the location "because we loved Willie's so much," she added.

After the Batsons discovered Willie's Bar & Grill, they leased a boat slip as close as they could to the restaurant at Choto Marina, so they could come to Willie's, Amy recalled.

"But Willie's shut down and never reopened," she said. "We were upset Willie's never opened back up."

After watching the building remain empty for two years, they decided to open their business at that location. "A year later our dream just became a reality," Amy said. "We've basically given up our other (jobs)."

Cheers is open from noon to 9 p.m. Sundays; from 11 a.m. to 10 p.m., Tuesday through Thursday; from 11 a.m. to noon Fridays; and from noon to midnight Saturdays.

To call ahead for large party groups, to rent the sports bar or for more information, call 865-392-6312.

She was business operations manager at Old Navy then a real estate agent with Coldwell Banker, Wallace & Wallace, Realtors in Farragut, where she still works part time, and Nick was working at Elite Motor Works.

"Nick and I are here, probably, 95 percent of the time because we really want to make sure everyone has a great experience and the best customer service possible," Amy said.