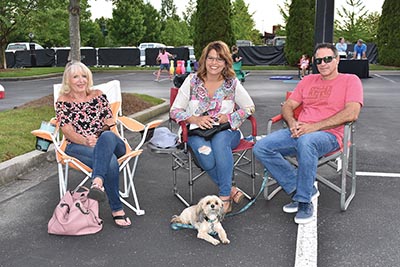 Local radio personality Michele Silva, center, with Jane Cade, left, her husband, Scott Collier, and dog, Margauxrhita

The outdoor summer concert season kicked off in high gear in June, with the Sounds of Summer Concert Series livening up The Pinnacle at Turkey Creek Friday, June 14, and Farragut's 5th Annual Lawn Chair

Concert Series playing to a full crowd in Founder's Park at Campbell Station Saturday, June 15.

The music was the main draw, but outdoor games, food vendors and socializing topped the agenda, too, as families took advantage of the rain-free festive atmospheres. Both series will continue this month, with the Lawn Chair Series from 5:30 to 9 p.m., Saturday, July 20, and the Sounds of Summer Concert from 6 to 9 p.m., Friday, July 19.

For more photos from these events, please see Westside Faces in our print edition.