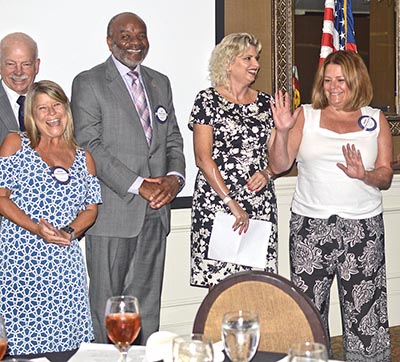 Rotary International District 6780 Gov. Greg Maciolek, not pictured, installed 2019-20 officers and standing committee chairs of The Rotary Club of Farragut during RCF's "Changing of the Guard" meeting in Fox Den Country Club Wednesday, June 26. Those installed included, from left, David Bluford, vice president; Arlene Weinstein, Membership Committee; Ed Jones, president elect; Staci Wilkerson, president; and Kristin Abouelata, Youth Service Committee.

The Rotary Club of Farragut has kicked off its new operating year after installing its officers and board for 2019-2020.

Outgoing president Keith Bryson handed over the president's gavel and pin to incoming president, Staci Wilkerson, during RCF's "Changing of the Guard" meeting in Fox Den Country Club Wednesday, June 26.

About Rotary International 2019-2020 District 6780 Gov. Greg Maciolek being on hand, "It's an honor to have our district governor here today and to have him install our new officers and committee chairs," Wilkerson said.

Other new officers included Ed Jones, president-elect; David Bluford, vice president; Julie Blaylock, secretary; Howard Fass, treasurer; Jim Dodd, sergeant-at-arms; and Bryson, past president.

Standing committee members are: Jones, Bluford as club administration chairs; Richard Copeland, Scott Brockamp, Family of Rotary; Doug Powell, Arlene Weinstein, Membership Committee; Tom King, public image; Bob Parker, Rotary Foundation; Teri Jo Fox, Val Privett, service projects; Kristin Abouelata, Cindy Kraus, youth service; and Becky Duncan, Amanda DeBord, international and grants.

Bryson noted many of the committee members are continuing on while some are rolling off. He was commended for his leadership and dedication to the club the past year.

Wilkerson has been with the club for eight years.

"Back in 2011, Bettye Sisco invited me to visit the Rotary Club of Farragut, and I immediately fell in love with this club," Wilkerson recalled. "I've been a member of other clubs previously, but I noticed right away there's something very special about this club.

"The fellowship and service are exceptional and so unique, and this club feels like a big family," she said. "This club does make a difference and the world. I'm very excited about the great things we'll accomplish together this year.

"I would like for our club to try some new ideas that connects us even more with the community," Wilkerson said as she presented this year's Rotary theme, "Rotary Connects the World."

One of her ideas is a reading program in an elementary school to encourage literacy and to strengthen the club's partnership with Ridgedale School.

"I'm excited about our wine-tasting event this year," she said as she thanked Rotarians Sam Taylor and Sam Mishu for their continuing to support the event.

The club, chartered April 22, 1980, started its 2018-2019 year with 92 members and ended with 99, Bryson said as he presented the annual report.

"We started about the same time the Town of Farragut started," he said. "We were sponsored by the West Knoxville Club, which is now Bearden.

"In terms of charitable giving, we had another great year," Bryson said. "We were able to write quite a few checks for a bunch of different organizations — right at 20."

Contributions for the year totaled $33,000 in donations for a lot of charities and organizations, which their representatives spoke to RCF the past year, along with others the club supports from year to year, he said.

"That's from all the hard work in fundraising," Bryson said, adding those organizations typically are local.

Additionally, he said contributions to the Rotary Foundation and Polo Plus exceeded the club's goals and both were an increase from last year's contributions.

"A few week ago, we were almost at $22,000 in contributions to the foundation and over $7,000 for Polio Plus," Bryson said.