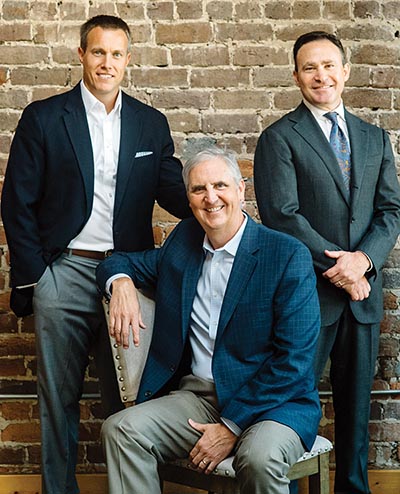 Rather & Kittrell founders Lytle Rather, seated, and Chris Kittrell, right, are pictured with firm partner Jeff Hall — all of whom have contributed to the company's inclusion on the 2019 Financial Times' 300 Top Registered Investment Advisers in the country.

For the second year in a row, Farragut-based Rather & Kittrell, which specializes in financial planning and investment management services for both individuals and businesses, has been named among the Top 300 Registered Investment Advisors in the country by the Financial Times.

The company, co-founded by Lytle Rather and Chris Kittrell in 2000, recently was notified of its repeat inclusion on the prestigious list, which evaluates firms on a variety of factors including assets under management, AUM growth rate, years in existence, advanced industry credentials of the firm's advisors, online accessibility and compliance records.

The FT 300 designees "represent an impressive cohort of elite RIA firms, as the 'average' practice in this year's list has been in existence for more than 22 years and manages $4.6 billion in assets," a FT press release stated.

"We are honored to be recognized again by a national publication like Financial Times," Kittrell stated in a press release. "As we enter our 20th year of serving the Knoxville community, our ability to guide clients through the transitions in their lives is a gratifying part of what we accomplish through the RK financial planning process.

"What's even more gratifying is hearing our clients talk about the peace of mind they have knowing that we are there to help them simplify what is a complicated and emotional topic," he further stated.

Among Rather & Kittrell's 21-member staff are those with an array of designations and skills sets, including seven who are Certified Financial Planners, and one — firm partner Jeff Hall — who is a Certified Investment Management Analyst.

Rather & Kittrell also manages more than 120 retirement plans as the company purchased Tennessee Pension Administrators in 2017. With nine employees, TPA is a third-party administration and fiduciary consulting firm that manages retirement plant details details so business owners can focus on running their businesses.

For more information on Rather & Kittrell, visit www.rkcapital.com or call 865-218-8400.