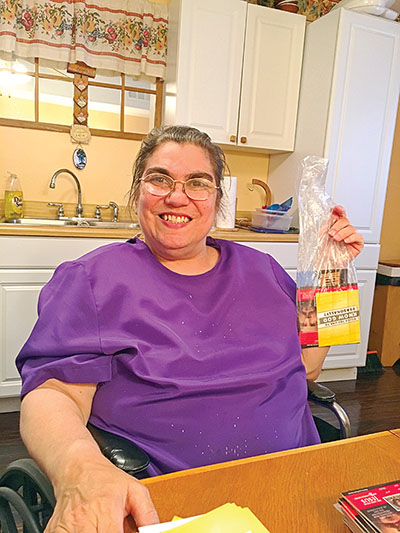 Though confined to a wheelchair after being born with cerebral palsy, Tracey Seyler, 58, found her ministry in packing 2,500 Jesus Film DVDs in packets for "Saturate Farragut" while at home. She is the daughter of the Rev. John Peach, Union Cumberland Presbyterian Church Outreach minister who brought this ministry to the attention of UCPC.

A small Farragut church has stepped up to "Saturate Farragut," attempting to reach every home in Town with an invitation to attend the church and learn the Gospel of Jesus Christ.

Union Cumberland Presbyterian Church may have about 20 people who attend morning Worship service on a "good Sunday," said the Rev. Leonard E. Turner, UCPC senior pastor, but its members already have delivered religious packets to 8,500 of the 10,000 homes in the 37934 ZIP code since May 11, when it started Saturate Farragut.

"We've had about 100 people participate," Turner said about members of his church, located at 400 Everett Road.

"People have really stepped up," said the Rev. John Peach, UCPC Outreach minister.

Teams of three go out three days a week to place packets on door handles of residents' homes.

"They sent us 10,000 packets with a CD, a track (booklet)," Turner said. "It used to be the 'Four Spiritual Laws.' I think they call it now 'How to Know God Personally.'"

Christ for All Peoples, who began "Saturate USA" from which Saturate Farragut is modeled, is "asking local churches to participate in getting this to everyone," he said.

Church members added a card with information about UCPC.

"They allowed us, as any church that does (Saturate USA), to put in a piece of our literature about the church," Turner said. "They gave us plastic bag door hangers to put (the packet) in there.

"There's no confrontation to anyone. We simply hang it on the door, if there's a doorknob, or we put it on the doorstep. We do not walk across anyone's yard. We are very considerate of their properties," the senior pastor added.

The harvest of their efforts has been more guests attending — some even joining the church — and a calling for UCPC members.

One member who discovered a calling was Peach's daughter, Tracey Seyler, 58, who was born with cerebral palsy and is confined to a wheelchair.

"She has found her calling. … She packed 2,500 Jesus Film DVDs (packets) while sitting at home in her wheelchair," Peach said. "She has single-handedly packed 25 percent of the 10,000 of the items to be distributed to each of those in the 37934 ZIP code.

"She'll get up at 3 in the morning and pack," he added.

Peach remembered Tracey told him, "'I want to do something for God, and I don't know what to do.'

Peach said this ministry has changed Tracey's life.

"She said, 'This is my ministry, and anything else the church wants packaged, I want to do it,'" her father recalled. "She is so delighted to be able to participate … she's a part of the team; she's not just a sideline.

"God has given her a ministry, and that's the main thing that touches hearts."

Meanwhile, "The (other) ladies of the church have stuffed probably 6,000 of them during Bible study, Sunday school and just as it had to happen," Turner said.

One of the packers who took home packages "had just come out of surgery," he said.

Even the elders have rolled up their sleeves to take part in the ministry.

"Our elders have just stepped up and all of them have just done fantastic," Peach said.

Peach found out about the ministry after a recent mission trip to Israel. He was looking for a new ministry and came across Saturate USA in the church's e-mails.

Turner said Peach —who leads UCPC's Truck Stop ministry with services at the Pilot truck stop-convenience store, 722 Watt Road, each Sunday morning — has been the church's point man on Saturate Farragut.

"He's been captain of (the mission) all the way through," Turner said.

For more about Saturate USA, visit online at saturateusa.org.