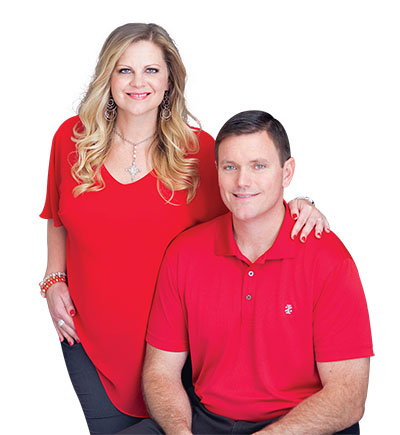 Teri Jo Fox and husband, Eric Whitener, recently opened their own firm, The Knox Fox Real Estate Group, in Farragut.

Husband-and-wife team Eric Whitener and Teri Jo Fox have ventured out to open their own real estate office, The Knox Fox Real Estate Group, in Farragut.

Whitener, the managing broker, and Fox, affiliate broker and realtor, opened the office at 11304 Station West Drive, beside Hampton Inn & Suites, Tuesday, June 25.

They brought with them realtor Penny Rogers.

The Knox Fox specializes in residential real estate services, helping people buy and sell homes.

"We care," Fox said. "We want to make sure that everyone throughout the transaction is being treated equally, and we try to add additional value to people's lives — not just putting a sign in the yard, not just putting it on the list, but aggressively marketing it with our marketing plan, communication and we're all "hands on."

"There's not one deal in this office that one of us here does not know about," she added.

The couple was with Crye-Leike of West Knoxville before they decided to open their own office.

"They first were where the Dunkin Donuts used to be, that's where I signed up with them," Fox recalled. "Then they moved next to Burlington Factory on Kingston Pike.

"Crye-Leike is a great company, and we grew there," she said but noted they basically hit a plateau.

"We really weren't growing much more," Fox added. "We were No. 1 agents there for so many years, and we were paying them. We pay a split — a part of our commission — to a brokerage.

"When we hit the five-year mark, we just weighed out how much it cost us; what tools we were getting from (Crye-Leike) that, maybe, we weren't even using; and we realized that opening our own firm was going to be definitely cost effective for us."

"Another aspect comes down to branding and location," Whitener said. "We obviously do a lot in the Farragut area."

Both are Farragut West Knox Chamber of Commerce ambassadors. "We're captain-level sponsors," Whitener said.

"We wanted to be in a Farragut office," Fox added. "We want to be involved in the community and get to know more of the businesses in the community.

"We live close by," she added. "We have listings in Farragut, but, really, knowing the businesses and helping people who are relocating to the area and knowing what to expect out of the Farragut community — no one really does that."

Fox was with Crye-Leike for six years while Whitener was with the company for five.

"He joined me back in the real estate world the month after we got married (April 2014)," Fox said.

The couple chose to use the name Knox Fox because "we like the way it sounds," Whitener said, adding "Knox" encompasses all of Knox County" and the 12 other counties the office serves.

The office is open from 8:30 a.m. to 5 p.m., Monday through Friday, but Whitener said, "There will always be someone to answer the phone after hours."

To contact Knox Fox, visit knoxfox.com or call 865-213-2899.