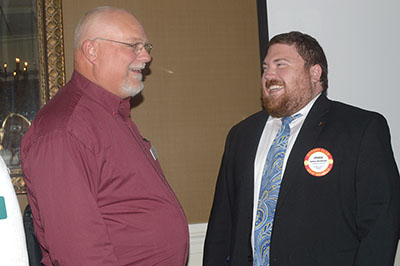 Richard Johnson, left, Tennessee Children's Home executive director, chatted with new Rotary Club of Farragut member Josh Hornberger, Edward Jones financial advisor, following a program Johnson presented to RCF during its meeting in Fox Den Country Club Wednesday, June 19.

Richard Johnson said childhood lessons and military experience have helped him in his role as executive director of Tennessee Children's Home, which offers treatment for displaced families and residential care for boys ages 13 to 18.

He shared the non-profit organization's story as The Rotary Club of Farragut's featured speaker during its weekly meeting in Fox Den Country Club Wednesday, June 19.

When Johnson retired from the Air Force in 2009 and later was looking for a way to give back, he came across the TCH and was hired as a principal of the on-site school and a house parent at its West Tennessee campus (boys only).

He became the director of the East Tennessee campus, in Karns, in 2011.

"Tennessee Children's Home is committed to serving abused, neglected, wayward, orphaned children and youths, as well as their families, in a Christian manner," Johnson said. "We provide physical, social, emotional, spiritual and educational needs of children and youths.

"We serve in a safe and secure environment," he added. "What we do in our organization is not just catered to one specific group."

A faith-based organization, Johnson said it is not run by the state, as it is a non-profit agency and is predominately supported by Churches of Christ and businesses, but it works with Tennessee Department of Children's Services to take children into DCS custody.

"We also do private placements," he added. "We work with families on costs."

The program started in 1907 as an orphanage, then changed its name in 1982 and merged in 1988 with Tennessee Children's Homes. In 2000, he said it merged with Happy Hills in Ashland City, which later was moved to Clarksville.

The other TCH campus, for females, is located in Clarksville.

All three campuses have on-site schools, Johnson said.

He explained the boys placed in on-site homes in residential care are in a group environment with house parents/residential counselors.

Johnson said the residential care is structured to help the boys be successful by offering the school, tutoring services, church attendance, counseling services and substance abuse counseling.