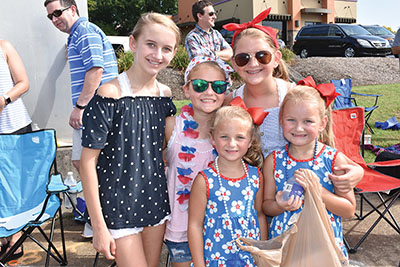 Back row, from left, are Maci Brown, Mary Ella Wendell, and Ainsley Brown. In front are Emmaline Wendell, left, and Blakely Brown.

With energetic toddlers and smiling children found everywhere — not to mention hundreds of teenagers, parents and grandparents — they all added up to a few thousand who lined the north and south sides of Kingston Pike to enjoy 32nd Annual Town of Farragut Independence Day Parade.

Presenting its usual varied cast of 95 entries and featuring Dr. Tom Kim as grand marshal and fly-overs from a Knox County Sheriff's Office helicopter, the roughly two-hour Parade took its usual westward route down Kingston Pike.

Beginning this year at West Pointe Drive due to road and parking lot repaving at Farragut High School, the Parade ended at the entrance to Farragut Towne Center (former Ingles location) on a sunny Thursday morning, July 4.

For more photos from this event, please see our print edition.