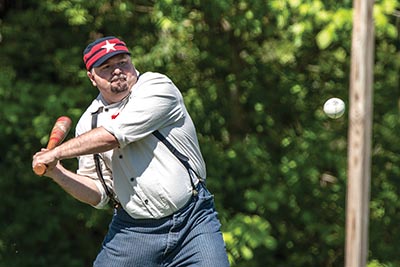 Batter Gary "Stove Pipe" Drinnen of the Knoxville Holstons Vintage Base Ball team gets a good look at a pitch during a game on the grounds of Historic Ramsey House recently.

When discovering Vintage Base Ball, Gary "Stove Pipe" Drinnen found the perfect vehicle to "incorporate" two things he really enjoys.

"I really like baseball, but I also really enjoy history," Drinnen, 37, said. "This was a great opportunity to play a game that I haven't played as much at this point in my life."

As a member of the Vintage Base Ball League's Knoxville Holstons, "It wasn't just baseball: it was baseball and history combined," he said.

A former grade-school classmate of Drinnen's was starting a Vintage team (1864 rules), though "I don't think he had ever played organized sports," said Drinnen, playing in his seventh Vintage season.

"He reached out to me and said, 'I'm starting a baseball team as part of a history deal for me, and we need some guys who had actually played baseball before,'" this Hardin Valley resident added. "'Would you consider coming out and playing? I think you'll have a good time because I know you like history as well.'"

"Stove Pipe" compared playing Vintage Base Ball to "guys and gals that do a historical re-enactment. This is like historical re-enactments where you don't know the outcome.

"I think it's pretty interesting," he added.

Part of a 16-player team — which includes one female player — "I usually bat somewhere in the middle of the line-up," Drinnen said.

Having observed some Vintage games before playing his first, "I thought catching a ball without a glove would hurt, and it turns out it does," Stove Pipe said. "But you get used to it."

The Holstons' talent level runs from "multiple guys on our team who had never played sports before all the way up to guys who played college baseball," Drinnen said.

But regardless of talent, "There's a heavy emphasis on sportsmanship ... a very gentlemanly game," he added. "... And it's a very fun, family atmosphere.

"I don't know that I fully appreciated how much I would get to know players from the other teams and the relationships that would be built," Drinnen added about the league, which stretches statewide.

However, "Nobody wants to lose, I can promise you that," he said.

A majority of the games take place each Saturday — never more than two weekends a month — from April into early September, though "occasionally we'll have a Sunday games," Stove Pipe said.

In keeping with the spirit of 1864, field conditions at Historic Ramsey House — and most places — aren't flat. And each has its own field rules.

"We play some places where there's a tree right in the middle of right field," Drinnen said. "At other places the slope from second base to right field is such that if you're the batter you can't actually see the right fielder."

An avid baseball player "growing up," Drinnen said he's a huge St. Louis Cardinals fan.