One of the region's most renowned nature centers has been helping the Farragut community enjoy what nature has to offer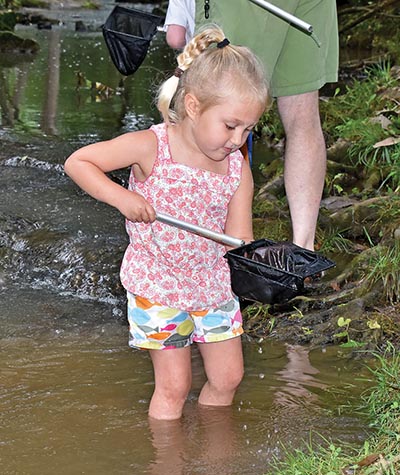 Annie Brahlek was one of the first to jump into the North Branch of Turkey Creek in a search of "water critters."

Since last Fall, Ijams Nature Center, in a cooperative effort with the Town of Farragut Parks and Recreation Department, has brought monthly programs to Town that showcase Farragut's natural beauty and habitats.

While they started a bit slowly last fall, the monthly offerings have become so popular they typically sell out.

"We had a lot of people express an interest in coming to us, but the distance sometimes posed a challenge," said Nick Stahlman of Ijams who has been leading the Farragut programs.

The June 22 group, which assembled in Founders Park at Campbell Station, featured an excited group of children, parents and grandparents using nets to discover "water critters" inhabiting the North fork of Turkey Creek, which runs through the park.

"We love these programs," said Dawn Greenwald, who attended with daughter, Sadie. "Nick is awesome and is a great teacher. It is very informative, and he makes it fun for everyone."

"My kids love it, and they love coming here to this park," said Alex Brahlek, whose daughters, Millie and Annie, were among the first to jump into the creek.

"This was our first time, and the kids are really enjoying it," said Andi Tenry, who brought her daughter, Charley and son, Zane.

Alice and Jerry Thornton, who both volunteer at Ijams, attended with their grandson, Fox Thornton.

"We volunteer there, but it is so much easier to come here than coming to Ijams," Alice said.

"Here, you don't have to fight the traffic," said Jeremy Clothier, Ijams Public Programs coordinator. "Nature is always around you,w here you are, and you don't have to drive I-40 to get to it.

"This has been a great partnership with the Farragut Parks and Recreation Department," Clothier added, noting that the collaboration may even bring more or larger programs to Town.

Brittany Spencer, special event and program coordinator with Town of Farragut, agrees.

"They started this program last fall and their numbers have greatly grown," Spencer said. "They keep getting 15 to 30 people attend each session, and they have been giving [the programs] rave reviews!"

This month's session is from 9 to 11:30 p.m., this Saturday, July 20, when Stahlman will lead a night-time adventure in moth collecting at McFee Park. Those attending are asked to register in advance by calling 865-577-4717, ext. 127, or online at Ijams.org. Cost is $5 per person, $10 for families, and is designed for ages 8 and older.

For more information on future offerings at Ijams, either in Farragut or at the Center itself, visit Ijams.org.