League 2 champ Sugarwood to join V-Green, tops at Smoky Mt. Invitational, plus Fox Den, Concord Hills at 'City Meet'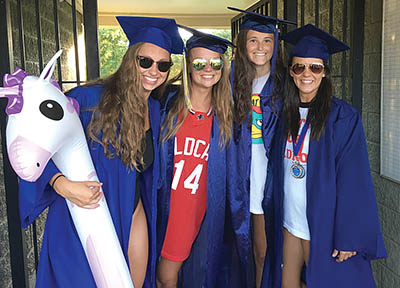 Seniors who swam in their final Stingrays home meet Tuesday evening, July 16, from left, are Chase Lahr, Morgan Carbaugh, Madeline Horn and Mia Ford.

Despite a 385-345 loss to rival Concord Hills Piranhas during its regular-season ending home meet Tuesday, July 16, the Sugarwood Stingrays still managed to win Greater Knoxville Area Interclub Swimming Association League 2 with a 4-1 record.

While Village Green ended in a three-way tie for second place in League 1 at 2-2, the Gators were Smoky Mountain Invitational champs.

The Piranhas ended tied for second in League 2 with another Farragut rival, the Fox Den Red Foxes, each finishing with 3-2 records. The Red Foxes were successful in their season-ending home meet, beating Jefferson City Swim Club 385-320 July 16.

All four Farragut teams are preparing for this weekend's GKAISA "City Meet" at the University of Tennessee's Allan Jones Intercollegiate Aquatic Center Thursday through Saturday, July 25-27.