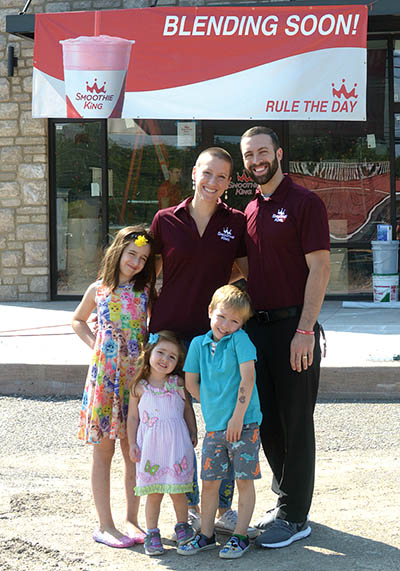 Jess and Vaughn Scarbrough with their children, from left, Ezri, 7, Soleia, 2, and Phoenix, 5, have pulled up roots from Baton Rouge, Louisiana, to open a Smoothie King franchise at Concord Galleria, 10802 Kingston Pike, with a target opening date of Tuesday, July 30.

Louisiana couple Vaughn Scarbrough and wife, Jess, have taken the plunge to bring the Louisiana-based Smoothie King to the Farragut area.

"We decided to give Tennessee a shot," said Vaughn, a Louisiana native. "We can't wait for it to be open."

The Scarbroughs have set a tentative opening date of Tuesday, July 30, in Concord Galleria shopping center at 10802 Kingston Pike, next to Big O Tires, and a grand opening in August. Smoothie King will be the first business in the center.

"(The opening date) all depends on permits," Vaughn said, adding they have rights to two more (stores). We are just trying to figure out the area to put them at this point."

At last count, he said there were more than 100 smoothie selections, and that number keeps growing.

"They are built to be kind of the complete meal replacement, all you need," he said.

"They're great, and they're customized," Jess said. "The brand has made really great strides to be top of the line, as far as quality, nutritious and clean ingredients. It's one of the reasons we love it a lot.

"We can drink it every day and feed it to our kids and feel all warm and fuzzy inside," she added and laughed.

"These kids are pretty much made of (smoothies)," Vaughn said about their three children, Ezri, 7; Phoenix, 5; and Soleia, 2.

"I like the Green Tea Tango," Ezri said.

The couple is partnering on the Tennessee franchise with Sean Cangelosi, owner of some of the Smoothie Kings in Baton Rouge for which they worked since they graduated high school.

"He's helping us get (the stores) started here," Vaughan said.

"He's kind of like family, too," Jess added. "When we started working for him, I was 17, and (Vaughn) was 18, and now we're partners on this store."

Jess added the ingredients used are wholesome.

"They make you feel good about what you're drinking," she said. "They help fuel you."

Smoothie King also offers supplements, such as high-protein powders, keto products, bars and other snacks, Jess said.

The first Smoothie King opened in 1973 just outside of New Orleans and started franchising in 1989.

"It just celebrated 30 years of franchising," Vaughn said. "It's grown a lot. We've just surpassed 1,000 stores worldwide."

The couple has had a long history with the company, as they have been working in the stores since they were in high school.

"We both transferred to stores in Baton Rouge at (Louisiana State University), and we met (while working) at a Smoothie King in college. We started dating, and we've been working there ever since," Jess said.

"So, (opening our own store has) been a passion since we were 16," she added.

"We quickly fell in love with the brand and the product," Vaughn said.

Then the opportunity arose for them to fly on their own.

"The markets (in Louisiana) are nice and saturated," he said. "My wife's from Tennessee, and we always hoped to move back here, get closer to family, to the mountains.

"We wanted to raise our kids around outdoorsy areas," Jess added.

Regarding the Concord Galleria location, "our corporate office kind of gave us a couple of target intersections (to look at), Vaughn said, adding they chose the Kingston Pike location because it is a busy pass-through highway.

"I think that's where we wanted to be — for people to make a quick stop on their way from work or from picking their kids up from school, going to or coming home from the gym," he said.

Hours will be from 6 a.m. to 10 a.m., Monday through Friday; from 8 a.m. to 10 p.m., Saturdays; and from 10 a.m. to 9 p.m., Sundays.