New estimate for finish of Concord Road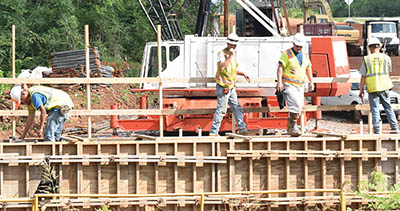 Construction workers were busy last Thursday, July 18, working on the first half of a new 80-foot bridge that will replace the current Concord Road bridge.

Roughly seven months have been added to the estimated completion of construction on Concord Road (state route 332), from Turkey Creek Road south .93 of a mile to the roundabout feeding into Northshore drive — now June 2021.

As for problems helping to create the roughly seven-month delay, "To this point there have been two issues that have come up during construction," stated Mark Nagi, Community Relations officer for Tennessee Department of Transportation Region 1 (East Tennessee), in a press release last week. "The first and most significant was a utility issue, the cost of which will be the responsibility of the utility. Portions of the utility relocations have been delayed and will extend contract time, but the contractors, utility owners and (TDOT) have worked to minimize the impacts of these issues.

"The other is the design and implementation of additional measures required to address and control groundwater in an excavated area," he added.

With a bid for construction from Summers-Taylor, Inc at $10,182,277, improvements are widening this stretch from two lanes to four while adding 5-foot-wide sidewalks, an 8-foot-wide greenway, a 4-foot cycling lane, curb and gutter "and a 12-foot center turn-lane that transitions into a 14-foot raised medium," another TDOT release stated.