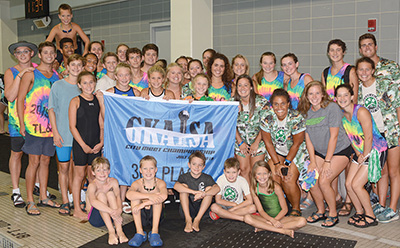 Having won Smoky Mountain Invitational for a fifth straight year July 13-14, Village Green Gators finished third among 31 teams during annual three-day GKAISA "City Meet" ending Sunday, July 27.

KNOXVILLE — Four of the top eight finishers during 2019 Greater Knoxville Area Interclub Swimming Association "City Meet" came from Farragut.

Village Green Gators, perennial high finisher, claimed third place (1.364 points) among 31 teams from Knox County and surrounding areas during the three-day event (Thursday, July 25, through Saturday, July 27) in Allan Jones Intercollegiate Aquatic Center on the University of Tennessee campus.

Head coach Sarah Fortney's Gators also captured the club's fifth straight Smoky Mountain Invitational Saturday and Sunday, July 13-14, at Springbrook Pool in Alcoa. "We've had a great season," she said.

At SMI, Grayson Clower, 17, won the 50-yard backstroke, 100-freestyle, and was a leg on the 200-mixed freestyle relay winners. Daniel Bao, 13, captured the 200 IM (setting a new SMI record), 100 freestyle (also new SMI record) and was a leg on the 200-medley relay and 200-freestyle relay top finishers. Lydia Finnegan, 10, won the 25-freestyle (new SMI record), 25-butterfly and was a leg on the 100-mixed freestyle relay champs.

At "City Meet," Liam Finley was champ in 8-under 25-freestyle, while Lydia was No. 1 in 9-10 25-free and 25-backstroke. The boys 13-14 200-medley relay foursome of Leo Karnitz, Jackson Tucker, Daniel and Ty Finnegan took first. Leo, Yohan La Pape, Ty and Daniel also won 13-14 200-free relay.

Julian Nosarzewski was champ in 15-and-over 50-breaststroke. Lydia captured first in 25-butterfly. Elizabeth Martin finished No. 1 in 13-14 butterfly.

Liam, Josiah York, Preston Dreiser and Cuyler Landis were 8-under 100-freestyle relay victors.

Sugarwood Stringrays, GKAISA League 2 regular season champ — and League 2 top finisher during SMI — finished fifth in "City Meet" (876.50).

"We had a really good season overall," co-head coach Jacob Gump said. Jayna Carbaugh was champ in 8-under 25-breaststroke at "City Meet."

Concord Hills Piranhas claimed sixth-place over the weekend (850) at UT. Noah Jenkins won the 8-under Boys' 100-IM and the 25-butterfly.

Kings Lorusso captured first in the 8-under 50-freestyle, as did the team's 8-under mixed-freestyle relay of Kings, his brother, Sawyer Lorusso, along with Sam Duby and Ava Brinley.

Fox Den Red Foxes rounded out Farragut's strong showing with an eighth place "City Meet" finish (829). In 9-10 mixed 100-freestyle relay, the champs were Kylie Leach, Jamie Bentley, Hunter Burris and Emma Hackett.

In 9-10 girls 100-freestyle relay, Kylie and Emma were joined in that first-place effort by Emerson Clarke and Ella Roettger. Ella also won the 100-IM.