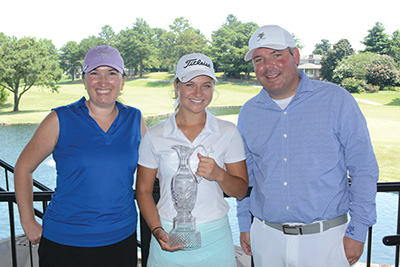 Emily Keeling, 19, holds the crystal jug as 2019 Fox Den Country Club 18-Hole Championship Flight winner beside runner-up Carolyn Gilliam and Danny Ackerman, FDCC head golf professional.

Dominance from youth, a recent years trend during the annual 18 Hole Ladies' Club Tournament Championship Flight at Fox Den Country Club, took an even younger turn in 2019.

Winner three times in the previous four 18-Hole Championship Flights as an under 30 participant, Carolyn Gilliam gave way to this year's champ: 19-year-old Emily Keeling.

"Thank you for letting me play in this tournament. It was really fun," Keeling, a rising sophomore golfer at Lipscomb University in Nashville, said in a speech before the group after defeating Gilliam in the 18-hole match play finals 4 & 3 early Friday afternoon, July 26.

"Thanks to you all for being so nice and welcoming," she added. "And thanks to Danny (Ackerman, FDCC head golf professional who ran the tournament)."

With both young women former Farragut High School star golfers, Keeling said, "I think it's been about three or four years since I first played in it with Carolyn."

As for being Championship Flight title holder and under age 20, Keeling's older sister, Elizabeth Keeling, did the same thing in 2014.

Tina Sanders, a member of Greater Knoxville Sports Hall of Fame who has won the Championship Flight at least once in each of the past four decades (1982, 1997, 1999, 2002, 2004 and 2012), lost to Keeling in a match-play semifinal 5 & 3 Thursday, July 25.

Brenda Curtis, back-to-back champ in 2009 and 2010, beat Kathy Jackson 7 & 6 in Championship Flight consolation.

Best friends top 2

In First Flight, the top spot came down to a FDCC pair who play together regularly in dual-pairing events.

Kathy Kruse rallied from being 4 down after nine holes against friend Janet Greene in Friday's match play showdown, winning five straight holes to go 1 up after 14.

After being all square following 18 holes, the duo decided things in a sudden-death playoff at No. 1 hole. A clutch putt from Greene was the difference.

Although saying she's a competitor, Kruse added she "could handle losing to Greene."

Greene, meanwhile, credited "good luck charm" Mae Barlow, fellow 18-Hole member who served as her caddie in Friday's showdown.

In First Flight consolation match, Susan Heist edged Debbie Siddons 2 & 1.

Second Flight

In the Second Flight match play title showdown Friday, Sally Hedgepath defeated Betty Dick 4 & 2. Hedgepath also was FDCC 9-Hole Ladies Club champ in 2015.

In Second Flight consolation match, Jill Tomlinson beat Grace Mutz 2 & 1.