Multi-talented Farragut golfing legend, Webb Olympic gold medalist, seven-time Spartans state champ enter Greater Knox Sports Hall of Fame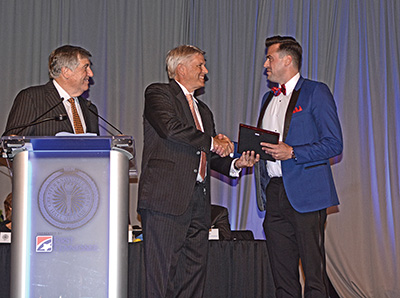 Davis Tarwater, right, Olympic swimming gold medalist, college All-American and former Webb School of Knoxville star (Class of 2002), is presented his Greater Knoxville Sports Hall of Fame induction plaque from Steve Lucas, board member with GKSHF, as "Voice of the Vols" and emcee Bob Kesling observes.

KNOXVILLE — Judging by hard numbers and impeccable reputations, Greater Knoxville Sports Hall of Fame now includes the best high school football coach, the greatest competitive swimmer and most accomplished golfer the Farragut area has ever produced.

Wade Chapman of Farragut was proclaimed "one of the truly great golfers in Knoxville history" and "one of the top teaching pros in the nation" by "Voice of the Vols" Bob Kesling, GKSHF Dinner and Induction Ceremony emcee, during Chapman's Hall of Fame induction in Knoxville Convention Center Thursday evening, July 25.

"A two-time Tennessee PGA Player of the Year," Chapman "has played on the PGA Tour, in the U.S. Open and the PGA Championship," Kesling added. "… He has played in seven Majors on the Champions Tour."

Kesling, himself a Farragut resident and GKSHF member, also labeled Dave Meske, Webb School of Knoxville head football coach since 1985, "one of the winningest coaches in Tennessee high school football history" in front of an audience packed with fellow GKSHF members.

Already a member of Tennessee Football Coaches Hall of Fame, Meske has collected seven state championships, three runner-up finishes and 267 wins in his first 34 years piloting the Spartans.

While also serving as Webb athletic director since 1995, this Wisconsin native earned KIL Coach of the Year honors leading the Spartans wrestling program in 1998, while also having served as boys and girls track head coach and assistant baseball coach.

Perhaps most importantly, Meske "also is a retired major in the U.S. Army Reserves, and served in Desert Storm in 1991," Kesling said. "We thank you for that service."

Another Spartans all-time great, Olympic gold medal swimmer Davis Tarwater (London Olympics 2012), "is one of the most decorated swimmers in Knoxville history," Kesling told the audience.

Leading Webb School to a state championship in 2002 while setting three state records — and being named state High School Swimmer of the Year — Tarwater took his talents to the University of Michigan in Ann Arbor.

As a Wolverine, he won NCAA national titles swimming the butterfly.

"A 13-time All-American, he set three Big Ten records and six school records," Kesling said. "Davis received the Big Ten Medal of Honor as the school's top student-athlete.

"Davis qualified for the World Championships three times, winning gold in 2009," he added. "He set the American record in the 200-(meter) butterfly in 2011."

Fellow inductee Jody Wright, long-time Fulton boys basketball head coach who has led the Falcons to three Class AA state titles and four runner-up finishes, spoke on behalf of all nine inductees.

"It's a special honor to go in here with my long-time friend, Dave Meske," Wright said.

Illustrating just how far both have come as coaches, Wright said, "Dave and I were roommates when Dave became head coach at Webb and I came to Fulton.

"That fall, Webb won two games in football. And that winter, Fulton won two games in basketball.

"And we kidded amongst ourselves, 'what are the odds, the chances, that the two losingest coaches are roommates?" he added with audience laughter.

Local high schoolers honored

Casey Collier, Webb School Class of 2019 All-state point guard and 2019 Miss Basketball in Division II-A, was named one of two GKSHF Female Athletes of the Year.

She also earned TSSAA state tournament MVP honors in 2018, helping lead the Lady Spartans to state titles in 2015 and 2018 and a runner-up finish in 2016.

Jake Renfree, Knoxville Catholic three-time All-American and seven-time state champion distance runner and Notre Dame signee (Class of 2019), was named one of two GKSHF Male Athletes of the Year.

Renfree also was "indoor mile national champion and runner-up at the Footlocker Cross County Championships," a GKSHF press release stated.

Cutcliffe featured speaker

David Cutcliffe, Duke University Football head coach and former UT Vols offensive coordinator — who is given much credit for the development of future Pro Football Hall of Fame quarterback Peyton Manning and two-time Super Bowl winning quarterback Eli Manning — was featured speaker.