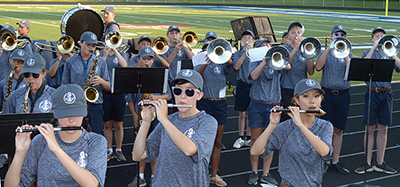 Farragut High School Marching Admirals ended their band camp Friday, July 26, with an evening performance for parents and the community in the football stadium to show what they have learned.

Summer heat and rain has not stopped Farragut High School Marching Admirals band members from taking part in their band camp at the school, which started July 15 and continued through July 26.

Band members trained for up to three weeks, from 8 a.m. to 5 p.m., learning first the basics, such as marching and steps, then the music and show. It culminated with a performance for the parents and public Friday evening, July 26, at FHS.

The band has close to 170 members, which are 30 more than last year's membership of 140, band director Kenneth Carrico said.

He attributed the growth to the program's excellence.

"We have a lot of new faces on the field," he said. "I think people are looking at the program and are excited about it.

"I feel my role as director is to inspire the students and get them excited about what they are doing," he added.

Drum majors leading the band for the 2019-2020 season are Terrence Orosio, a senior; Olivia Layman, a sophomore; and Annalise Smith, a junior.

This year, the band is experiencing new features — new uniforms and added training.

"We have brand new uniforms this year," Carrico said. "They will be debuting them this fall. We are looking forward to bringing these out soon and getting (the show) rolling."

The director also added freshman camp for new members, percussionists and guard members that took place between June 24 and June 28. He explained new members were trained how to march and be prepared during the freshman camp, then learned the show during the July band camp. The freshman camp also gave percussionists and guard members a leg up, and the band practiced the music they played for this year's Independence Day parade, said Katie Kelsey, who is entering her second year as guard director.

"Everyone was in the parade, from freshman to senior," Carrico said. "Alumni also were invited to participate with the band in the parade."

Kelsey said color guard members learned all the show work in June as well.

The Marching Admirals will take part in five competitions this year, starting right at home with the Admiral's Cup Invitational, which FHS Band Boosters will host Saturday, Sept. 21.