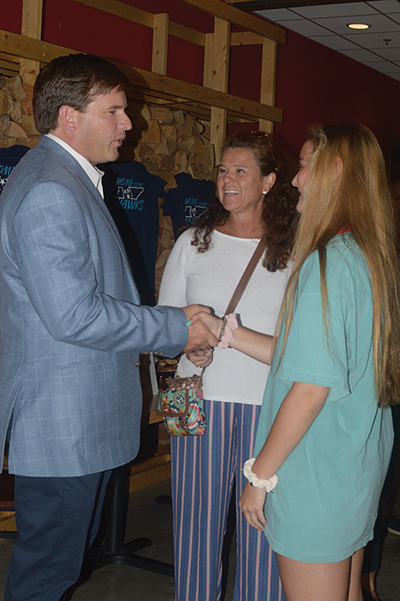 Hardin Valley Academy's new principal Rob Speas meets Jennifer Bjornstad, left, and her daughter, Sydney Bjornstad, a rising ninth grader at HVA, during a meet-and-greet event at Hard Knox Pizza in Hardin Valley Wednesday, July 24.

About 100 Hardin Valley residents joined parents, students and faculty of Hardin Valley Academy at Hard Knocks Pizza, 10847 Hardin Valley Road, to welcome HVA's new principal, Dr. Rob Speas, Wednesday, July 24.

While some stayed a while and ate, others simply stopped in to say hello.

"He seems really energetic and happy to be principal here," said Iris Li, a rising sophomore. While she lamented she had not gotten to know the former principal better, she is hoping to be better acquainted with Speas.

He replaces founding principal Sallee Reynolds, who was promoted to Knox County Schools supervisor of Secondary Education during the summer.

Regarding Reynolds' and Speas' styles, Donna Henkel, an HVA special education and English department teacher, said there is no comparison between the two.

"They are totally separate individuals," added Henkel, who is starting her eighth year at HVA. "But they both have the idea of taking care of family (the school)."

Veteran educator Vivian West, who has been teaching at the school since it opened, said her son, Daniel, was a math teacher's assistant at Fulton High School under Speas.

"(Speas) was so good to my son, and Daniel respected him so much, so even though we're losing Sallee, we will be in good hands with Rob," West said.

"It's exciting," Meshon Krateau, who starts her 11th year at HVA, said about Speas coming to the school as principal. "I'm excited because it brings new energy to the school, and that energy is going to help the kids."

The get-together was a result of efforts from HVA Foundation and the school's Parent-Teacher-Student Organization.

"We already had two (Foundation) board meetings," said Kevin Crateau, foundation president. "(Speas is) very down to earth and seems to want to make the right decisions and do the right job for students in the school.

"He's very supportive of all (school) organizations, sports and academies," Crateau added. "He's already advocating for the school."

Jaime Rome, an HVA parent, agreed the assessment of Speas' energy.

"I'm excited," said Rome, who's husband, Paul, is on the HVA Foundation board. She added it means a "new face, new ideas.

"I'm looking forward to the school year," she added.

"I thought he was great," said Jennifer Bjornstad, whose daughter, Sydney, is a rising ninth grader. "I like him. He's nice."

"He came to one of our PTSA meetings," said Kristi Snyder, a PTA parent of a freshman and a senior. "He's great. He's super excited. I think he's ready to get started and bring excitement to the kids.

"He's got a lot of ideas he wants to bring to the community," she added.

"I think (Speas is) a really nice guy," said Corbin Breaux, a rising senior. "I think he's doing a really good job.

"The previous principal really set the bar high, (but) I think he's going to meet it," Breaux added.

Speas joined Knox County Schools in 2000 as a teacher at Austin-East Magnet High School.

A member of the 2010 Leadership Academy, he has served as an assistant principal at Austin-East and Fulton high schools and L&N STEM Academy before being named principal of Fulton High School in 2012, where he served until this summer.