Tasty cool-down fun at Turkey Creek's new Sweet Retreat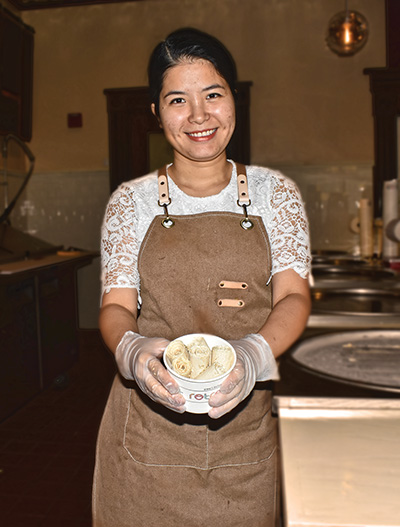 Shaylin Chi with freshly made Thai ice cream.

Farragut's hot summer days just got a little cooler — and sweeter — with rolled ice cream and Bubble Tea at Sweet Retreat.

Proprietor Shaylin Chi opened the shop at 11661 Parkside Drive in July. It is the first shop in the Knoxville area offering the ice cream delicacy, also known as stir-fried or cold grilled ice cream.

The enterprising entrepreneur — who also owns Stir Fry Café — wanted to introduce the Thai sensation to Knox County, but said "it took some time, waiting for just the right location to become available.

"There were already four ice cream stores here (in Turkey Creek) — but there were none on this end," Chi added, as she noted her store's unique placement on the West side within Farragut Town limits.

And none offered rolled ice cream, either, she noted.

"It is made-to-order ice cream, that you can see being made," she added. "Most ice cream places, the ice cream is already made, but if you like it mixed, (you) can come here and we can do anything the customer orders."

Chi starts with a regular ice cream base, pre-made using creams and sugars, then as customers order constructs a near-perfect edible artwork project in front of their eyes.

"Cold grill" machines specially-ordered from New York are where she drops both the base and whatever flavors the client orders.

The tops of the machines have to be lowered in temperature to "18 or 19 degrees below zero" for the process to take place, Chi said.

The mixture is folded together, with implements resembling paint scrapers, then rolled out flat before being cut into five or six lengthy dough-like pieces, which are then rolled up and placed upright, resembling very thin egg rolls.

Chi has a Classic Flavor Line for $5.95, offering vanilla, chocolate, Oreo cookie, peanut butter, Thai tea, mango, strawberry and raspberry. Her Signature Line, at a cost of $6.95 per serving, offers multiple flavor options including Passion Banana (banana and chocolate), Morning Call (a shot of espresso and condensed milk) and Special Rainbow (sorted fruits).

There are non-dairy options, too, and she also is careful to list a color-coded ranking of "sweetness" level on the menu, with different colors indicating different percentages of sugar in each topping and flavor.

Also offered is a Chinese delicacy in Bubble Tea, which is a milk-based tea with a tapioca pudding "bubble" in the bottom.

Hours are 11 a.m. to 9 p.m., Monday through Saturday, and 11 a.m. to 8:30 on Sundays.

She has also jumped right in to help with an upcoming fund-raiser for the Alzheimer's Association Tennessee Chapter, as she will host one of its Paint the Town Purple Kick-off events the week of Aug. 11-17.

On Monday, August 12th from 4 to 6 p.m., visitors can stop in, register for the upcoming Walk to End Alzheimer's on Sept. 21, and enjoy the store's Taro Purple ice cream, with Sweet Retreat then donating 10 percent back to the cause from those sales.

Guests may also make donations at the register throughout the week.