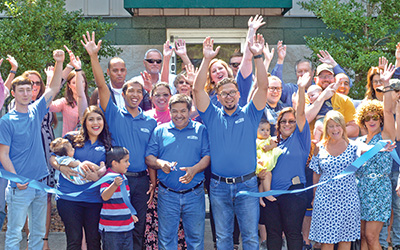 Brothers Flooring celebrated its opening with a ribbon cutting, hosted by Farragut West Knox Chamber of Commerce, at the store's new location, 10830 Murdock Road off Lovell Road, Friday, July 26. On hand for the event were owners, Salvador A. Soriano, (center and left), his father, Salvador Soriano Sr., (center, with scissors), and brother, Edwin Soriano, (arms raised); Salvador Jr.'s wife, Maria and their son, Rafael, 5 months, (to his right); Edwin's son Jeovanni, 6, (front of Salvador Jr.); mother, Cristina, (behind Salvador Sr.); Edwin's wife, Brenda, (to Edwin's left) holding their daughter, Alina, 1 year; and a host of Chamber members.

Farragut West Knox Chamber of Commerce has welcomed a new member, a family business, into its fold.

Salvador A. Soriano, his brother, Edwin Soriano, and father, Salvador Soriano Sr., owners of Brothers Flooring, celebrated the business' move from Chapman Highway to its new showroom location at 10830 Murdock Road, off Lovell Road, with a ribbon cutting hosted by the Chamber Friday, July 26.

"It's a dream come true," Edwin said.

"It's really neat for us to get to work with family businesses," Julie Blaylock, FWKCC president/CEO said. "It's local, it's home-grown … you've partnered together, and you are in it for the long haul."

Brothers Flooring sells and installs all types of flooring, from luxury vinyl tile and luxury vinyl planking to vinyl or linoleum, tiles, hardwoods, engineered wood and carpets. They also sell and install custom showers.

"Almost anything that has to do with floors, we do it all," Salvador said. "We even have gym mats – the rubber gym floors.

"The only thing we don't do is sanding and refinishing hardwood (floors)," he added.

The Sorianos have been in the Murdock Road location since May.

"Amazing," Salvador A. Soriano said about opening the new location. "I'm happy to be a member of the Farragut West Knox Chamber of Commerce. We're very blessed that we got that opportunity."

The Sorianos were only at Chapman Highway – their first location – since January.

"We thought we would just try it out, but business just grew too much that we had to relocate," Salvador A. said.

"We're blessed," he added. "We weren't expecting that growth, which is good."

They learned about their new location before it came on the market. "I guess it was destiny, fate," Salvador said and laughed.

The Sorianos have been in the flooring industry almost 10 years. Before coming to the East Tennessee area, they were living in northern Virginia, where Salvador Sr. had an air conditioning company. The family moved in 2008, Salvador Jr. said.

"My brother actually was the one who started working (in flooring)," Salvador said. Edwin recalled he started as a helper, installing carpet in residences.

"But (Edwin) saw the potential that this industry has," Salvador added. Edwin was a subcontractor when he asked Salvador to join him in 2011, just after Salvador graduated high school. Their father came on board in 2012.

"Our reputation grew and people were requesting us. Our clients actually helped us, encouraging us to take a stab at opening our own store."

Hours are from 8 am. to 5 p.m., Monday through Friday. To find out more, call 865-474-9622.