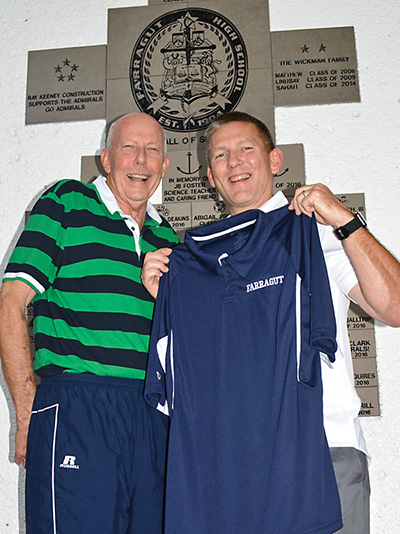 Dr. John Bartlett, right, new principal at Farragut High School, is handed a school shirt to try on by Donald Dodgen, FHS athletics director, during annual "Summer Insanity" in the school's Commons Monday afternoon, July 29.

A former U.S. Marine, Dr. John Bartlett is getting fitted for his new "dress blues" — Navy blue Farragut High School attire, which would replace his once-beloved Bearden High School Maroon apparel.

Bartlett has returned to his first love — being a principal —taking the helm at rival FHS after serving as principal at BHS from 2008-09 through 2017-18.

While admitting his first thoughts about becoming Farragut principal "were weird — 'let's think about this, let's pray about this,'" he added, "it's still a great community with fantastic teachers and great kids.

"After reaching out and talking to a couple of people I trust, and a couple of people that are mentors of mine, I said, 'Ok, this is the right move.'"

After 10 years at Bearden, "I applied last year for the (Knox County Schools) supervisor of Secondary Education and was hired for that position for a year," he added about 2018-19.

"But last year, I missed being in a school with kids and teachers," he added. "The school is where my heart is."

Bartlett replaces Ryan Siebe, principal for three years at FHS who was promoted last week to Secondary School Staffing supervisor in the KCS central office. (See story in next week's farragutpress).

The new principal arrived for his first day Monday, July 29, with a faculty breakfast at the school. Bartlett later would meet students and parents that day during the school's annual "Summer Insanity" scheduling event.

While faculty members learned of the changing of the guard from e-mails July 26, Bartlett said he plans to send e-mail to parents about his arrival at FHS.

Highlighting his communication effort will be a Meet the Principal event beginning at 6 p.m. Thursday, Aug. 1, at the school.

"We're going to do some planning off that feedback we get from everybody," Bartlett said. "Coming in this late, there are no big changes, no big plans right now."

"This week I will be sitting down with the faculty, talking about school culture and just trying to get the year started," he added.

Bartlett will look to build relationships similar to what he developed at BHS.

"Being at Bearden High School for 10 years, it's family there: the teachers are family, the kids are family," he said. "You grow close to that community."

He joins a team of new administrators as well as veterans such as athletic director Donald Dodgen.

"We're happy to have Dr. Bartlett," he said. "I've known Dr. Bartlett for years. He will help us both academically and athletically."

"KCS and Farragut (are) fortunate to have you. You are truly about the kids. A true servant leader," Danny Trent, retired KCS supervisor of Secondary Education, shared on Twitter Monday, July 29.

As for his duties as KCS Leadership Development director, Bartlett said that would take place "a couple of days a month meeting with principals and assistant principals, doing some leadership coaching right away and doing some professional development with them.

"It's probably going to be after school, sometimes after principals' meetings and some meetings where I have release time from here and I have to go meet a principal for lunch, " he added.