Long-time Farragut resident blessed to be alive after a terrible fall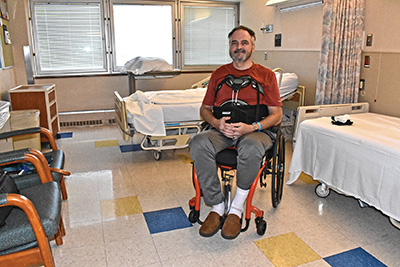 Bill Kitchens is lucky to be alive, and he knows it.

The long-time Farragut resident fell nearly 40 feet from the roof of his Stonecrest neighborhood home on June 8.

Even though he has been helped every step of the way by what can only be described as divine intervention, "There were times they couldn't tell us if I would live or die," Kitchens said.

It was just another rainy summer Saturday, and Kitchens decided to follow up on a leaky roof repair project in which he had sprayed rubber sealant on some flashing near the chimney. He remembered telling his wife, Carol, he was going to possibly spray some more before climbing on top of the Wardley Road home they have shared for more than 20 years.

He still is not completely sure what happened next, but he somehow slipped, falling on his right back side as he landed "luckily" in a grassy area below, "or I wouldn't be here," he said.

Carol heard him hit the roof, and as she and their daughter, Sierra, ran to him, one of the first miracles occurred: their neighbors, EMT Al Elkins and his wife and Registered Nurse Christy Elkins. were home by happenstance — although they typically worked out of state, Kitchens said.

"My daughter ran and told them I had fallen, and they came right away," he added. "At that point, every minute, every second counted, but they were able help stabilize me, and really, it was like they were able to triage me before the ambulance could get there, and they knew what to say when they did arrive.

"God just had a hand in all of it."

Kitchens was gravely injured, breaking all 12 ribs, his clavicle, scapula and eight vertebra in addition to suffering a concussion. But his punctured right lung "was the worst injury," he said.

At one point, "I had three chest tubes in my right side and it took a week to stabilize me," he said, noting he was at University of Tennessee Medical Center for the first two weeks following the accident, under the watchful eye of his wife, daughter and sons, Seth and Casey.

Kitchens eventually had surgery there, fusing six of his vertebrae together. He said his spinal cord was not severed — which was an early fear. However, he remains paralyzed from the chest down, and has been continuing to convalesce at the Patricia Neal Rehabilitation Center at Fort Sanders Hospital over the last several weeks.

It was a place with which he already was familiar, as he worked nearly 30 years making braces for children and adults.

And therein has been yet another seemingly divinely-inspired chapter of his story. While acknowledging early "big bouts of depression," Kitchens has found encouragement and hope along the way.

"I worked with all the therapists at Patricia Neal as I worked with their patients, fitting them here for their braces," he said from his hospital room last week. "And now, many of them are working on me.

"Here I am having the same stuff done to me," Kitchens added.

"It is kind of a neat story, really, and it has taken me a long time to get my head wrapped around it, and come to terms with it."

In that story is much of Kitchens' hope for the future.

"We don't know if I will regain any movement or feeling, but the therapists here are the best ones out there, and they are the ones who are making sure I will have the best shot at that being the outcome," he said.

Kitchens, whose ties run deep in Farragut as a Class of 1982 FHS graduate, has been encouraged by the outpouring of love and prayers from his friends and community, including a GoFundMe Page set up to help with medical and living expenses.

"The support I have had has been unbelievable," he said, marveling that the Go Fund Me $20,000 initial goal was reached after only nine days.

He was just a little more than a year into operating My Pet Brace, which took his knowledge of brace building and applied it to animals, when the accident occurred, he said, but he may have found someone to carry it on temporarily.

"I'm so thankful for that," Kitchens said. "I was afraid I was going to have to shut it down."

Though challenges are ahead in rehabilitation following his release from Patricia Neal Friday, Aug. 2, friends and strangers alike have come forth to help make his home handicap accessible.

"Leaving Aug. 2 is really so special, with it being our anniversary," Kitchens said.