Bartlett receives warm welcome at FHS event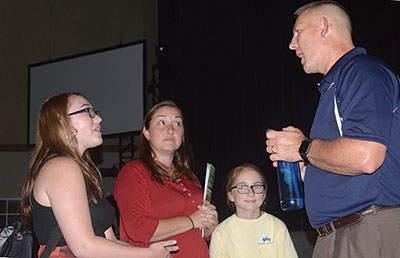 Dr. John Bartlett, new FHS principal, talks with 10th-grader Emma Helton, left, as her mom, Kristen McGuire, and sister, Taylor Helton, listen after "Meet the Principal" Thursday, Aug. 1.

Excitement and optimism led responses from parents as they left "Meet the Principal" at Farragut High School Thursday evening, Aug. 1.

"I'm glad you're here," Jeff Pappas, father of a FHS senior, told new principal Dr. John Bartlett during the gathering.

"We needed a new principal, and the direction you are going to take us in, we appreciate," Pappas added. "I think the kids need to know that as well."

"It's going to be energizing," parent Jeff Pinchok said. "It will bring Farragut back to the top … I'm looking forward to his tenure and longevity."

"I'm super excited," said Kelly Orrico, whose daughter, Kelsie, is a sophomore. "It's a welcome change."

About 150 parents and students gathered in FHS's Vickie B. Wells Auditorium to learn more about Bartlett.

Last week, Bartlett said he had the opportunity to hear from faculty and students, including 450 freshmen, about what they wanted and needed.

"I made three promises and two demands," he said. "All my students will hear this.

"When they come to school here, they will be worked and they will learn more than they ever thought they could learn. When they leave this school on a daily basis, their brains should burst. And they will be prepared because of that (challenge)," Bartlett said.

"Another thing I promised them ... that I will treat them like I will treat my own son or daughter. They're that important to me."

His demands are great effort and a "fantastic, great" attitude.

Bartlett said after hearing from students, "I'm just going to jump right in. The Farragut community is hurting. Let's be honest."

He has scheduled a three-and-a-half-hour trauma-informed training Thursday, Aug. 22, for faculty during In-Service, looking at what trauma does to the brain, how a student reacts in a traumatic situation and how it increases depression.

Bartlett added the Aug. 22 training is the initial step in addressing mental health issues, as there will be more training later on.

Although not right away, he said, "You re going to eventually see some real education of students as to what is going on.

"We want our kids to understand what is going on in the brain," Bartlett said. "Why? Because it demystifies anxiety."

Additionally, he said, "There are going to be no more kids that are not known in this building.

"There's no more invisibility," Bartlett said. "Our job is to make sure we know every kid.

"I want every kid to hear, 'welcome to Farragut. We're glad you're here. Let's talk,'" he said. "We've got to do that with our teenagers.

"It's going to take some time — Rome wasn't built in a day — but there's some urgency, and we're going to go to work.

"It's building a relationship with a student in front of us," Bartlett said. "We have to know every student is valuable, has worth and is unique. Every one of them is gifted. They have a purpose in life. It's our job that every student knows that."

Academically, he said, "Farragut High School is Farragut High School … it's not broken.

"Academically, it's the best high school in the county," he said. "Academically, it's one of the top 10 high schools in the state… the results are there."

This year, parents will see some curriculum at FHS — Pre-Advanced Placement classes.

He also is looking at keeping the number of AP classes down to two a semester, which received applause.