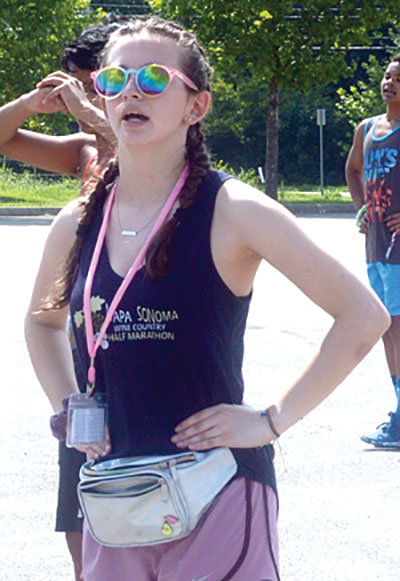 Zoe Abraham, a senior, during HVA's Band Camp Thursday, July 18, in the school parking lot.

Rain and temperatures in the 90s impacted Hardin Valley Academy's Band Camp in mid- to late-July, but the members kept their pace.

The camp ran from Thursday, July 18, through Friday, July 26, when it hosted a free community performance.

This year's HVA Spirit of the Valley band is being led by head drum major Sammie Weyant, who is being assisted by drum majors Hudson Scott and Tucker Martin.

"We have 172 members this year, compared to 143 last year," said Alex Rector, HVA band director. "So far I have been extremely impressed with the work ethic, commitment and buy-in of our students.

"I think we are setting up for an amazing year," Rector added. He estimated the band is comprised of about 30 seniors, 50 juniors, 50 sophomores and 70 freshmen.

Its 2019-20 program is titled, "Another Man's Treasure." Rector said it is inspired by the familiar quote, "One man's trash is another man's treasure."

"We are exploring perspectives and how people value things differently," he added. "Something that is extremely important, valuable or sentimental to one person may seem worthless to another person and vice versa."

The band plans to participate in Admiral's Cup Invitational at Farragut High School and host the Spirit of the Valley Invitational, along with participating in Bands of America Regional contests in Johnson City and Lynchburg.