Sexton, state House Speaker-designate, tells of childhood, teen years in Town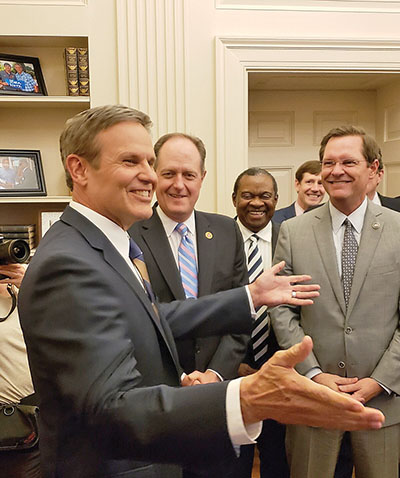 State Rep. Cameron Sexton (R-District 25), far right, Tennessee General Assembly House Speaker-designate with ties to Farragut in his youth, is greeted by Gov. Bill Lee, left.

Spending his childhood and early teenage years living in what is now the Town of Farragut, state Rep. Cameron Sexton (R-District 25) could hardly wait to speak about a special moment during his middle school years.

In the 1984-85 school year, "I was in the first eighth-grade class at the new middle school when it moved across (Kingston Pike from near Concord Road) up on the hill up there," said Sexton, who is House Speaker-designate (confirmation expected Friday, Aug. 23) while serving all of Cumberland and Van Buren counties and a portion of Putnam County for nine years.

"I remember when we lived out there in the 70s, and the only thing really out there was the schools, Hudson Hardware, the Farragut Cleaners and the two-car Phillips (66) gas station that used to be on the corner (of Campbell Station Road and Kingston Pike)."

Though attending Blue Grass Elementary School "because my mother (Jane Sexton) taught there," Sexton transferred to Farragut Primary School for the second grade, then attended Farragut Intermediate and FMS before moving to Oak Ridge after his freshman year at Farragut High School (1985-86). He graduated from Oak Ridge High School in 1989.

Though at FHS just a year, "I fondly remember Mr. (Lendon) Welch," Sexton said about the late coach and teacher. "He taught geography.

"And the football (head) coach for a lot of years that I knew, coach Buddy Fisher," he added about another highly respected late coach and teacher. "I had a good relationship with him.

"And for chemistry, Mr. Ward who just passed away."

It's no wonder Sexton got to know some of these FHS teachers: his father, Dwight Sexton, "taught chemistry and biology (at FHS) in the early- and mid-1970s," his son said.

A two-year starting point guard for the ORHS Wildcats (1987-88 and 1988-89), Sexton's basketball days trace back to the CBFO and FMS levels.

"For coach (Bobby) Henry and Farragut Middle School back in the day, I was his point guard," he said. "I played CBFO football and basketball up until the sixth grade.

"Then I transitioned to just basketball in middle school in the seventh grade," Sexton added.

His parents remain in the Farragut area, "living off of Choto Road, and my brother lives in Montgomery Cove," he said.

About his relationship with state Rep. Jason Zachary (R-District 14), whose district includes Farragut, "We're good friends," Sexton said.

Sexton and wife, Lacey Sexton, have three children: Nathaniel, 20; Olivia, 17; and Greer, 5.