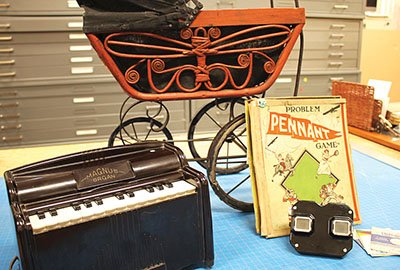 Visitors to Farragut Museum can reminisce about their childhood with toys such as these on display as part of a new "Timeless Toys" exhibit, which begins Friday, Aug. 16, in the museum, 11408 Municipal Center Drive in Town Hall.

Farragut Museum gives the community a chance to return to its childhood with "Timeless Toys."

A new museum exhibit, featuring toys belonging to current and past volunteers as well as items from the museum's permanent collection, will open to the public Friday, Aug. 16, in Farragut Town Hall, 11408 Municipal Center Drive.

"In the past, we've added toys to whatever was on exhibit around Christmas time, but this will allow us to present more," said Sue Stuhl, Farragut Parks & Recreation director. "It will feature items from the '50s and '60s, so there will be a lot of things that people will remember."

"Timeless Toys" will remain open through the end of the year, so it will include Christmas-time viewing, she said, noting it is not a hands-on exhibit — the toys will be in cases.

Friends of the Museum are invited to a sneak preview of the exhibit from 4:30 to 6:30 p.m., Thursday, Aug. 15. New Friends can sign up during the event.

Farragut Museum is being closed today, Thursday, Aug. 8, and Friday, Aug. 9, for exhibit installation.

Regular museum hours are from 10 a.m. to 4:30 p.m., Monday through Friday. Admission is free.

For more information, visit townoffarragut.org/museum or contact Historic Resources coordinator Julia Barham at jbarham@townoffarragut.org.