Leonard and Ford emerge as 1st mayor, South Ward alderman, but Farragut Community Group has Board majority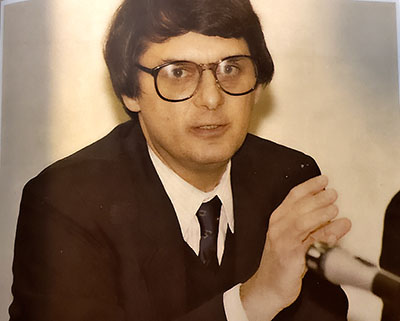 Then Alderman Eddy Ford in the early 1980s.

In the hours after citizens within selected boundaries voted 3-to-1 to incorporate the Town of Farragut on Jan. 30, 1980, the founders themselves, Farragut Community Group, considered the next vital step.

"After we got over all the excitement of winning the vote, we were all out to eat and everybody said, 'We've got to find somebody to run (for Board of Mayor and Aldermen)," FCG member Marianne McGill said.

Running through a list of FCG members, "Eric (Johnson) said no, George (Dorsey) said no, Ron Simandl said no, Betty (Dick) said no, Ralph (McGill, Marianne's late husband) said no," she said.

"I'm sitting there listening to all of them talking, and I'm going, 'We've got to have somebody on this Board who knows why we incorporated.'

"… 'At least in the beginning.'"

With no one changing their minds on that night, "I started thinking about it and praying about it," Marianne said about her prospects to run for an alderman post.
Foundations: 40 Years of Farragut
Although Eddy Ford, a retired engineer at Oak Ridge National Laboratory and 1957 graduate of Farragut High School, did not have a role in founding the Town of Farragut, his influence over matters concerning the new Town began in April 1980. • Elected to a two-year-term as a South Ward alderman during the first Town election on April 1, 1980, Ford would go on to spend the next roughly 29 years on the Board of Mayor and Alderman. Following 13 years as an alderman, Ford was elected the Town's second mayor in 1993. Sixteen years as mayor followed, as did praise from many circles on Ford's effectiveness leading the Town's government. This weeks Foundations: 40 Years of Farragut podcast is presented by .
She then recalled telling the group, "'If you all are not going to run, I'm at least going to run.

"And then George and Eric came along and said they would run after much conjoiling by me," she added. "I felt like we needed a voice because there were people against the Town who wanted to run."

However, FCG leader Dr. McGill declared no fellow members would run to become the first mayor.

However, "It killed Ralph not to run for mayor," Johnson said. "But he stood by his word."

Meanwhile, in reference to those opposed to incorporation, "The last thing they told their people before the (incorporation vote), 'It looks like we're going to lose; we better get some candidates ready to run for office,'" Johnson added.

Candidates, advice

Eddy Ford, an ORNL engineer running for a two-year term in South Ward (south of Kingston Pike), said future Town attorney and FCG member David Rodgers "said he would conduct three or four training sessions for candidates. … Dave brought in representatives, or employees, from the state planning office and the University of Tennessee Municipal Technical Advisory Service. … Both organizations are set up to advise municipalities."

On a personal note, "I had never run for public office in my life," said Ford, who would begin 29 years of elected service as an alderman (13 years) then as mayor (16 years).

Aldermen candidates Ford, Dorsey, Johnson and Marianne McGill all were elected April 1, 1980 — with the aldermen having staggered terms: Marianne (two-year term, North Ward), Dorsey (one-year term, North Ward) and Johnson (one-year term, South Ward.

The late Robert "Bob" Leonard, a prominent Knox County attorney who served as counsel for First Utility District, threw his hat into the ring vying to be Farragut's first mayor.

Among a five-person field, Mr. Leonard was elected.

Farragut's first Board of Mayor and Aldermen was sworn into office April 7, 1980.

Though Johnson said Mr. Leonard was originally against incorporation, "… I think he was some moderation that the overly enthusiastic people who formed the Town needed," he added. "… I do appreciate that he probably moderated some of our ideas a little bit, and did a good job still letting us get through what was needed.

"And I think Bob was a good person. … I think he tried to do what was right."

As attorney for FUD, "I recognized '(Mr. Leonard) knows Farragut, he knows the area,'" Ford said.

Early preparation

Even before the incorporation vote, Johnson said Bill Etter, one of the pro-incorporation volunteers, "went and researched other small towns throughout the state to just see what the economic situation was, how you could function, where your income came from.

"He did a real good job putting information together," Johnson added.

Etter "was instrumental in setting up a budget, and it was amazing: that budget was right on the money for the Town for about three years," FCG member Betty Dick said.

"Bill Etter sat down and figured out, almost to the dollar, what money we would have coming in, so we could function without a property tax," FCG member Gene McNalley said.

Dick said she was among FCG members involved in "setting up the zoning, doing research on that sort of thing.

"Carol Evans and I did a lot of research on signs," she added. "And basically the two of us wrote the first sign ordinance for the Town of Farragut. … Everywhere we went we took pictures of signs."

Incorporation "was a real community effort; there were a lot of people involved," Dick said.

Dick joined Evans and Ron Martin, a representative from MTAS, on a trip to Germantown in Shelby County.

"We got some ordinances from other towns," she added. "Bill got Goodlettsville and a couple of other towns out in West Tennessee when he was doing the budget."

Town bandwagoning

Once incorporated, "We had people from all over come to us and say, 'can you include us,'" Johnson said. "Particularly from Concord Hills, Sweetbriar and Woodland Trace subdivisions. … A lot of folks came to our meetings from those areas."