Held annually at Willow Creek Golf Club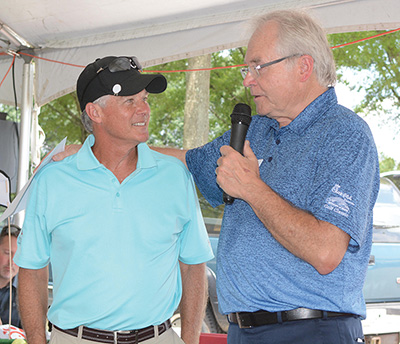 Dan Anderson, left, was the first Mission of Hope Golf Classic participant in 16 years to pocket a hole-in-one (No. 6, 157 yards using a 5-iron). Emmette Thompson, M of H executive director, recognized his accomplishment in a post-event ceremony.

Since 1996, Mission of Hope has assisted impoverished Appalachian children in 28 rural elementary schools (more than 12,000 students) in upper East Tennessee, Southeast Kentucky and Southwest Virginia.

Mission has since expanded its reach to reward scholarships

for hard-working high school graduates in 14 Appalachian high schools looking to earn a college degree.

One of Mission's most successful fundraisers has been held annually in Farragut since the early 2000s.

Sixteenth Annual Chick-fil-A Knoxville & Mission of Hope

Golf Classic, each year held at Willow Creek Golf Club, featured 236 participants broken into an 18-hole "AM session" (120) and 18-hole "PM session" (116) playing a four-person scramble best-ball format on a sunny Friday, Aug. 9.

Perhaps the highlight of this day was an M of H Golf Classic first: Dan Anderson nailed a hole-in-one on the par 3 No. 6, using a 5-iron from 157 yards out.

On top of his regular prizes for being "Closest to the Pin" at No. 6 during the morning session, Anderson also won a set of golf clubs.

Other morning winners: champion team was Steven Daves, Scott Headrick, Brad McConnell and Wes Cate (57, won a playoff). Runner-up foursome was Buddy Bradley, Pat Barker, Bud Sutton and Dobber Whaley.

Straightest Drive on No. 3: Roger Bohanan; Closest to the Pin No. 2, Nathan Howard; Closest at 11, Brett Taylor; and Closest at 14, Brad Bartlett.

Afternoon session: champion foursome was Jim Cornelius, Norm Templeton, Alan White and Dee Anderson (55). Runner-up team was Mike Hensley, Herb Dunn, Don McCloy and his son, J.P. McCloy.

Straightest Drive, No. 3, Mark Moreland. Closest to the Pin, No. 2, Allen White; Closest at 11, Don Cagle; Closest at 6, Don McCloy; and Closest at 14, Austin Kramer.

To donate to Mission of Hope, call 865-584-7571 or visit www.missionofhope.org

For more photos from this event, please see Westside Faces in our print edition.