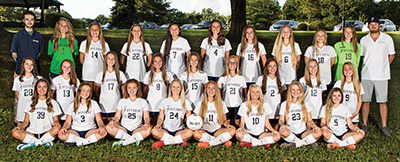 Presenting the 2019 Farragut High School girls soccer team with head coach Drew Payne, right.

The 2018 season was a campaign packed with adversity for the Farragut High School girls soccer team.

The Lady Admirals were bitten by the injury bug last season and had a rough second half.

But third-year head coach Drew Payne said his girls are eager to put last year in the rearview mirror — though the Lady Admirals are in the midst of a rebounding campaign.

"We have a lot of experience, but it's young experience," Payne said. "We lack seniority, size and speed. We have to play our game and possess the ball.

"I don't really look for us to be on a level to compete with the best teams in East Tennessee this year like Bearden, Maryville and Hardin Valley, but what we can do is play our game and possess the ball and have that upset mindset," he added.

The Lady Ads finished fourth in District 4-AAA in 2018, seeing their season come to an end with a loss to eventual district champion Maryville in the tournament semifinals.

Farragut finished 7-9-1 overall last sesaon.

"We have a younger team this year, but we've worked hard and we've done a good job of conditioning," senior Abby Rhodes said.

While Payne knows his team may experience some more growing pains in 2019, he certainly can't find fault with his squad's effort.

"We have some tactical things that we still need to work on, but they're working hard and that's something that most any team can do fairly easily," he said.

Senior captain Emma LeClair said the work ethic and self-sacrifice must remain constant if the Lady Admirals have any chance to enjoy success this season.

"This year, we're a lot healthier and we have a lot less players, but we're all working hard and we know that hard work beats talent any time," she said. "And we have a lot of people playing positions that they're not used to, but they're doing it for the team because they all want to win."

All of Farragut's upperclassmen have varsity experience with the team.

Chloe Chase, a sophomore, joins FHS after playing her freshman season in California.

"Everybody that's not a freshman is back except for Chloe," Payne said. "But we're young again this year. We only have three seniors and six juniors.

"So we have nine players who are either juniors or seniors and 18 of them are freshmen or sophomores."

Despite the lack of size and speed, "What we do have is some above average to good center midfielders, especially the young players, the freshmen and sophomores, so we're building for the future, the next couple of years," Payne said.

"We want to possess the ball and this team is setting up for that," he added.

Top returners include LeClair, Rhodes and Lexi Barnes from the senior class.

Juniors Sammie Harville, Carly Utterback, Rebecca Dos Santos, Sydney Mayfield, Morgan Hodge and Shayne King also are back.

Returning sophomores include Caroline Ekern (who started in goal last season), Maddie Blum, Savannah Noble, Emmie Harville, Maddie Martin, Ashton Wright and Madilyn Stark.

Chase, the lone new sophomore, is joined by fellow newcomers Annabelle Ekern, Reagan Miller, Jenna Thorley, Madison Lawson, Emmy Castleberry, Brittany Crafton, Mary Gohn, Ava Linginfelter, Anna Gibbs and Abigail Vaughn.

Farragut opens its 2019 campaign at Lenoir City Tuesday, Aug. 20, in an early-season district match.

The Lady Ads host rival Hardin Valley Academy Tuesday, Aug. 27, then take on William Blount Thursday, Aug. 29.

Farragut's league fate may be determined early as its first three matches are district tilts.

Read previews on Hardin Valley Academy and Bearden girls soccer teams in next week's farragutpress Sports pages.