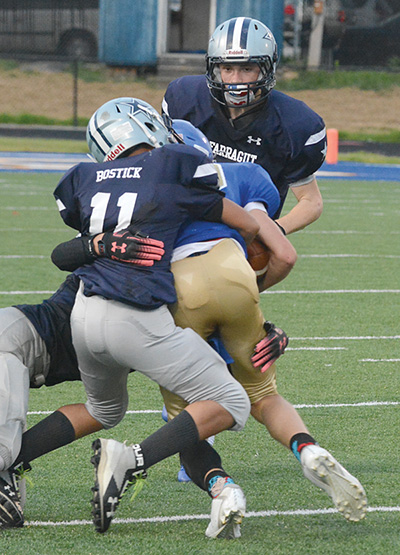 Farragut linebacker Vincent Bostick (11) brings down a Karns ballcarrier. He was among several Admirals contributing to a dominant 30-0 victory at Karns High School in this inaugural Middle School-Age Conference varsity game Thursday evening, Aug. 8.

KNOXVILLE — Making Farragut Youth Football history, which happened to occur at Karns High School, the FYF varsity (eighth-grade) Admirals were an overwhelming force Thursday evening, Aug. 8.

A strong running game led by backs Jack Alley and Ben Reed, plus excellent blocking, provided 30 points for the visitors.

Farragut's first-string defense, meanwhile, allowed just one first down while keeping Karns off the scoreboard.

"I'm just proud to come out here and get that first win," Farragut head coach Dee Smith said about a 30-0 victory, with the visitors especially strong in the second half, in the first Middle School-Age Conference varsity game in Farragut Youth Football history.

"Our defense came to play tonight … our defensive line and linebackers really stepped up and held them," he added.

Individually, "Our middle linebacker, Vinnie Bostick, that kid is a (ball)hunter, knows where the ball is at every time and really comes up and stops the run in the middle," Smith said. "He does a great job. That's one reason they didn't get a first down (on the first string defense) until they started throwing the ball."

As for Jack and Ben offensively, "They run hard," Smith said. "That's what I was telling our offensive line: 'you give them a hole and block and those guys are going to get first downs and touchdowns.'

"Our offensive line really stepped up," he added about the work of seven offensive linemen: Nathan Harville, Roger McNeer, Avrey Mohr, Jett Pieper, Landon Hastings, Luke Hill and Noah Root.

Jack scored on a 2-yard run early in the second quarter, capping a 70-yard drive.

The Admirals took a 6-0 lead to halftime while not allowing the Karns offense a first down.

Also a presence defensively and on special teams, Jack recovered a fumbled Beavers kickoff return at the Karns 37 to begin the second half. It led to the second Farragut touchdown.

On third-and-long at the Beavers 25, Ben took a jet sweep, cut into an open hole and rambled up the middle for a touchdown.

Cam Duncan nailed the first of what would be three 2-point conversion kicks, making it 14-0 Admirals with 5:49 left in the third quarter (eight minute quarters in the new conference).

Farragut then took over at the Karns 32 following a short punt and found the end zone again.

Running backs Chase Potter and Troy Lockhart each contributed a pair of nice carries before Chase scored from 1-yard out. It was 22-0 with 1:10 left in the third quarter.

The visitors then drove 66 yards for its final touchdown, with Jack getting loose and rambling 38 yards to paydirt down the left sideline

Landis Davila and Chase Bolen also carried the ball for Farragut, whose offense was led by quarterback Stratton Scott.

Farragut will host its first MAC game tonight (Thursday, Aug. 15), when rival Bearden comes to Bill Clabo Field for a 7:30 p.m. opening kickoff.

This league is not affiliated with Knox County Schools, Knox County Parks & Recreation nor the Tennessee Middle School Athletic Association (middle school sports governing body equivalent of TSSAA for high schools).