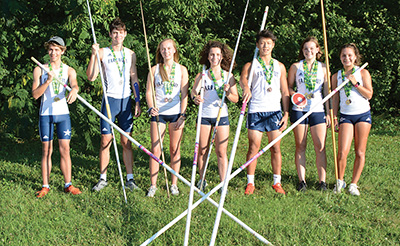 AAU Junior Olympic National qualifiers from Farragut, from left, are Jonathan Shved, Matthew Shved, Emily Farkas, Eleni Christopolous, Schumann Xie, Anna Moore and Clara Castleberry. Not pictured is qualifier Breanne Davis.

Several high school track athletes from Farragut competed at the AAU Junior Olympic National Championships in Greensboro, North Carolina July 29-Aug. 3 — the largest youth track and field event in the country.

These athletes had to first qualify at the SEAAU District meet June 23 and then place in the top six at the Region 6 (Tennessee, Kentucky and Alabama) meet June 28-29 in their events and age groups.

At the National meet, 2019 Farragut High School graduate Matthew Shved competed in the men's 17-18 pole vault and javelin, where he achieved a personal best throw of 100-feet-4.

Schumann Xie, FHS sophomore, attained a personal best vault of 10-feet-6 in the boys 15-16 pole vault.

Farragut junior Breanne Davis achieved a personal best of 4-foot-9 in the girls 15-16 high jump.

Eleni Christopolous of Farragut, a senior at Knoxville Catholic, competed in the women's 17-18 javelin and pole vault.

Anna Moore, FHS senior, was among the field in the women's 17-18 shot put and discus.

Farrragut senior Emily Farkas competed in the women's 17-18 javelin, while FHS junior Jonathan Shved took part in the boys 15-16 pole vault.