FPS beautification a volunteer effort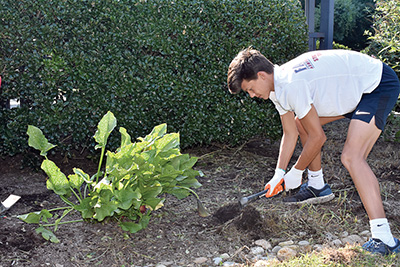 Hayden Estes, Farragut High School baseball team member, weeds around the gazebo at Farragut Primary School on Saturday, July 27, where he was one of about a dozen volunteers who helped with clean up efforts before the new school year began.

Quite a transformation greeted Farragut Primary School parents, students and teachers last week when they returned to their beloved school — Kyle Lawrence and a team of volunteers had seen to that.

The landscape was freshly mulched, new shrubs and flowers had been planted and waist-high weeds had been removed from around the school's gazebo.

Lawrence, owner of Silver Oaks Land Management LLC, adopted the school last year, and since then has donated his time and talents, along with mulch, plants and flowers to spruce up and clean up the school grounds, most recently in the weeks ahead of the new school year.

He led one last collective push Saturday, July 27, with the assistance of members of both the Farragut High School football and baseball team and several of their parents, along with Emily Evans, FPS PTA grounds chairman who coordinated the volunteers, and her husband, Jonathan Evans.

Evans praised Lawrence and his efforts at the school.

"It has been great because we have worked together on what can be done to make the school look that much better," she said.

The group numbered about a dozen, each of whom weeded, hoed and cleaned areas of the campus before shoveling and spreading mulch in front of the school and around the gazebo at the school's entrance.

They worked diligently for several hours in increasingly humid and hot temperatures, under Lawrence's watchful eye and instruction.

"It's nice to have our school's landscaping looking as good as it can look," Lawrence said. "Curb appeal means just as much at a school as it does at home."

He already was heavily invested at FPS, as his daughter, Lily, is a student there, but came to love it even more when he took on sponsoring the school at the request of former FPS PTA president Wendy Stiles.

Lawrence, whose wife, Danielle, is placement manager for Youth Villages, will continue maintaining the grounds in the year ahead.