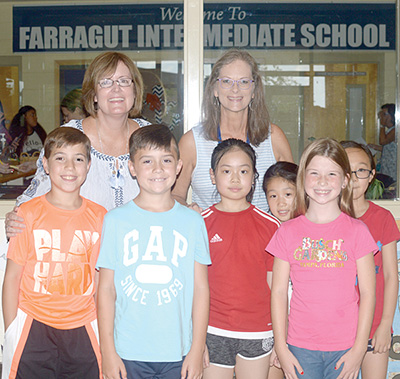 Amy Schumpert, Farragut Intermediate School assistant principal, left, and FIS principal Deborah Adorante welcome students to the school's recent open house. From left are fourth-grader Isaac Andrews, third-grader Colt Newey, fourth-graders Kaylee Jun and Olivia Wu, and third-graders Sydney Newey and Rachel Mao,

Kindergarten through eighth-grade principals have set key goals they want to achieve this school year — in all aspects concerning the welfare of their young charges.

Farragut Middle School principal Weston Edmonds said among his goals is continuing to improve the building.

"We've been in partnership with our (Parent-Teacher Organization) last year and this year," he said. "We've done a lot of great improvements: We have the new sign out front; there's landscaping around it; (and) we're adding new signage to the building this year.

"We had a clean-up day over the summer, where we painted the curbs," Edmonds said.

The staff and volunteers also cleaned and pressure-

washed all the bathrooms, and teachers came in Saturday, Aug. 3, to paint, so all the student bathrooms would be painted before students came in Monday, Aug. 5. Additionally, he said lights were replaced in the parking lot.

"The Farragut (Middle School) building's a little older, so it needs more care, and that's been a focus of ours is really trying to improve the look and feel of our building," Edmonds said. "And, as parents come here I think they can see some of the changes happening and some of the fundraising results kind of showing up in the quality of the building."

While Edmonds does not foresee any major projects, he expects there might be some landscaping on the grounds and an increase on the school's technology.

"That's always a big push for our fundraising, to make sure we have enough devices for our kids," he said.

As Edmonds strives to meet the school's goals, he concedes he faces the challenge of managing a school population of more than 1,400 students.

"We're the biggest middle school in Knox County," he said. "That size can be a challenge because there are so many kids and so many needs.

"With that many children comes a lot of responsibilities and a lot of wanting to make sure we take care of every kid."

In keeping with size, "What we were able to do was, in the last year, we were able to add a teaching position (so) all our sixth-grade pods are all four-member teams, so that's great," Edmonds said.

"We used to have a three-member team," he added. "Now have five four-member teams. We are fully staffed."

FIS changes

At Farragut Intermediate School, led by principal Deborah Adorante, "The curriculum has changed so that instead of the Civil War being taught at the fifth-grade level, it will be taught at the fourth-grade level," said Christy Davis, an art teacher at FIS.

As such, she noted fifth graders will only get a brief introduction to the subject.

"But we thought (fourth-graders) needed to learn more (about the Civil War)," Davis added.

The school also plans some activities this year around the Civil War, such as a possible re-enactment and a class on quilting.

NES changes

At Northshore Elementary, principal Keith Cottrell said, "We've added two new fifth-grade classrooms this year. We're blessed to have a beautiful building with room to grow and expect that growth to continue."

Other schools

Attempts to contact principals at Hardin Valley schools and Farragut Primary School were unsuccessful as of press deadline.