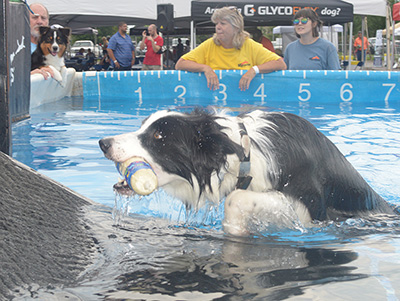 Seven, an 8-year-old border collie belonging to Felicia Ye (not pictured) visiting from Shanghai, China, begins to step out of the pool after diving in and collecting a baton during last year's Dog Daze in Farragut. These non-competitive dogs were encouraged to try out the Dog Daze experience, just as they will beginning at 4 p.m., Friday, Aug. 16, in Village Green Shopping Center parking lot in front of Stein Mart and Planet Fitness.

Dog Daze II @ Village Green presented by TDS Telecom will be back for a third straight year in Farragut Friday, Aug. 16, through Sunday, Aug. 18.

Labeled "a three-day festival of fun, food, shopping and competition," by Stephen Krempasky,

executive director of Shop Farragut/Farragut Business Alliance, Dog Daze II is a nationally-sanctioned regional canine aquatics competition of Dock Dogs International.

Festivities will take place in the Village Green Shopping Center parking lot, in front of Stein Mart and Planet Fitness. Competition runs from 10 a.m. to 5 p.m., Saturday and Sunday. Event is free of charge all three days.

"Competitors from as far away as Ohio and Florida for this national competition," stated Trent Steele, Smoky Mountain Dock Dogs club president, in a press release. "... There will be over 300 jumps with 150 competitors.

"This is one of the last national events in the Southeast so it has become very popular with the competitors."

Festivities will start with a local dog "Pooch Plunge" dock dive tryout between 4 and 7 p.m., Friday, Aug. 16.

To enter your dog in the actual competition, (all breeds accepted), e-mail dd_admin@dockdogs.com, call 330-241-4975 or go online at https://dockdogs.com/eventscal/dog-daze-at-village-green/#.

The Alliance has teamed up with Town of Farragut, SMDD and Ricki's Pet Depot to facilitate this canine "diving length" competition.

Last year there were more than 30 competitors and more than 5,000 visitors during the sophomore effort of this soon-to-be annual Farragut event. Registrants will be able to gain qualifying points towards attendance at the World Championships in October.

A silent auction will benefit the B.A.A.R.K. foundation, an organization helping the Dock Dogs community in its time of need.

First Utility District is a major sponsor, supplying more than 27,000 gallons of fresh Tennessee River water to fill the pool.

DockDogs® was established in 2000; its first event was at the ESPN 2000 Great Outdoor Games competition.