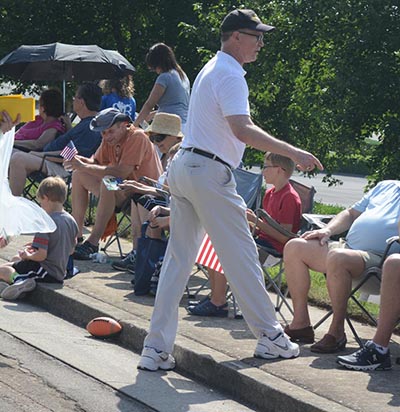 Frank Galbraith, retired social studies teacher from Farragut Middle School, conducting his "Declaration of Independence" history survey — while also questioning parade-goers about U.S. history figures in the late 1700s/early 1800s — during Town of Farragut's 32nd Annual Independence Day Parade along Kingston Pike.

A most-popular celebration annually involves thousands in Farragut — but few of those folks know the details about what's being celebrated?

Frank Galbraith, a long-time Farragut resident, loves to absorb details of Revolutionary War battles and the strategies of Lee versus Grant in The Civil War.

In the broader sense, this 39-year veteran teacher in Knox County Schools — 35 of that teaching social studies at Farragut Middle School — simply loves to relive American history.

Though retired, Galbraith is eager to share his passion with anyone who will listen.

However, randomly visiting among the thousands of parade-goers during Town of Farragut's most recent Independence Day Parade — something he's been doing each July 4 for "about 15 to 20" years — "This year I was disappointed" about the lack of knowledge on basic facts of the Declaration of Independence, Galbraith said.

"I sure hate to see people not know that much about our Founding Fathers," this 1959 Farragut High School graduate added.

Visiting "about 200 people," Galbraith said he "quit asking about halfway through the parade because "I just got tired of asking them about the Declaration, because nobody was getting it. They weren't answering it.

"Maybe it's because they're not that interested in it, but I don't know for sure what it was," he added.

Broadening his scope, "I started using (questions about) the Second President (John Adams) about five years ago as a follow-up," Galbraith said. "People used to get that — but this time they did not.

"The last 100 yards (of this year's parade route), I changed from the Second President to the First President (George Washington)," he added. "I was just amazed. … I assumed everybody knew our First President, but obviously not everybody does — or they've forgotten."

Galbraith wants to make it clear he's not questioning these parade-goers' patriotism — "they come out here to honor America and to have a good time.

"But for some reason they're just kinda forgetting about our history," he added..

"After teaching all of those years I knew the stress on teaching history was diminishing. … American history, little by little, people weren't as interested in that."

Galbraith also blames, in part, "history revisionists."

"I really believe that there really have been attempts over the years to kind of downplay the importance of these men, that they really weren't the stalwarts of patriotism and Christianity that we used to think about," Galbraith said. "They're wrong."

Politics invading the modern curriculum also may be a factor according to Galbraith.

"`George Washington was a slaveowner' … generally the first thing you hear about President Washington," he said. "Nothing about his character or his nature and what he did, how he learned, what he talked about.

"… The idea that George Washington is not a great man of history is ridiculous.

"And then (Thomas) Jefferson comes along, one of the most amazing individuals who ever lived," Galbraith added.

"But all you hear is, 'he's just a deist who fathered some kids by Sally Hemmings.'"

Galbraith said he started noticing a decline of parade-goer "Declaration" knowledge "about 10 years ago. They got to the point where they weren't saying it as easily."

"A Day of Infamy"

Picking a day each year in the week prior to the annual Pearl Harbor attack remembrance Dec. 7, Galbraith presents "A Day of Infamy" slide and lecture on the Japanese attack on this Hawaiian naval base in Town Hall boardroom.

The purpose is to remind young and old alike this attack led the United States into World War II.

"We've got to carry the torch — somebody's got to keep it going," he said.