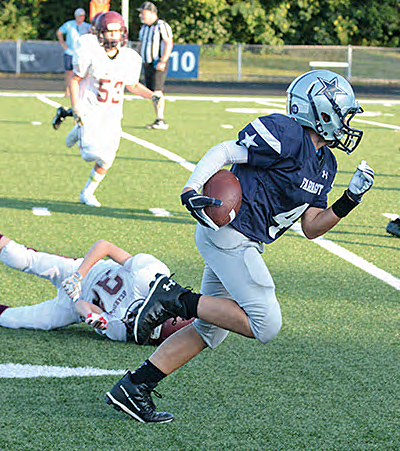 After using a stiffarm, Farragut JV receiver Sam Bobich heads to the end zone for a 24-yard TD reception.

Turning back two early Bearden scoring opportunities penetrating deep into Admirals territory, Farragut's Middle School-Aged varsity (eight-grade) football team took charge in the second quarter and was in command of things.

Until a 94-yard touchdown pass cut a 16-0 Farragut lead in half with 9:07 left in the fourth quarter.

But a huge defensive stop near midfield, followed by a big pass play of its own allowed the Admirals to regain momentum, add an insurance touchdown and go 2-0 on the season with a 24-14 win Thursday night, Aug. 15, at FHS's Bill Clabo Field.

"Our defense has been playing really well," Farragut head coach Dee Smith said. "We've got a stout defensive line and one heck of a linebacking unit."

About the linebacking trio of Vinnie Bostick, Ben Reed and Jack Alley, "If you try to run up the middle on them you're not going to get very far."

Bearden, a tough-luck 13-12 overtime loser in Week 1 against Alcoa, fell to 0-2.

"Too many mistakes," Bearden head coach Kevin Ironside said. "You get inside the 10-yard-line twice and come away with no points."

On second-and-long at the Farragut 24, a 56-yard pass deep down the middle from quarterback Stratton Scott found Jordan Sheppard in stride, placing Farragut on the Bearden 20 late.

Also allowing a 15-yard run on third-and-12 on Farragut's first scoring drive, "Those were the two plays of the ballgame," Ironside said.

"We knew they were stacking the box on us, so we knew that if we faked inside our outside guys would be open on the pass play," Smith said. "That pass play was huge for us."

Jack Alley scored three plays later from 11 yards out. Anders Deets' third extra point of the game, aided by the holding of teammate Landis Davila — handling a low snap and earlier in the game a high inside snap — made it 24-8 with just 3:02 left.

"It all comes up front, our offensive line," Smith said. "We knew we had them tired a little bit, so we leaned on (our offensive line) and told them, 'We're coming right at them. We need you guys to lean on them.'

"And our backs picked the holes and ran hard."

Bearden marched 49 yards ending with a 4-yard TD pass from quarterback Drew Parrott with just 1:10 remaining.

The critical 2-point conversion kick was blocked, leaving it a two-score game at 24-14.

Following a huge defensive stop inside the Bearden 10 early in the fourth quarter, the visitors then struck big.

Drew found Sam Tommins on a short route that Sam turned into a 94-yard foot race to the end zone he won versus the Farragut secondary. Jack Downey's two-point conversion kicked cut the lead in half.

"Sam Tummins is tall, strong and fast," Ironside said. "I felt we had a favorable match-up on that side."

Other Bulldogs Ironside praised were defensive lineman Mykel Slusher, "who played a good game, made a lot of stops," and Kai Ironside, a linebacker "who made a whole bunch of tackles."

First half highlights

A huge sack by Ben Reed ended Bearden's second march into the "red zone," and sparked the offense to go 78 yards for the game's first points.

Jack's 23-yard run came before Ben got loose on a 35-yard scamper to the Bearden 2. Chase Potter scored on the next play with 7:27 left in the first half. Anders converted to make it 8-0.

Ethan Feehan's interception set up Farragut at the Bearden 42. Three runs by Jack keyed the scoring drive, ending with his 12-yard burst to the end zone.

Anders made it 16-0 with 4:58 left in the half.