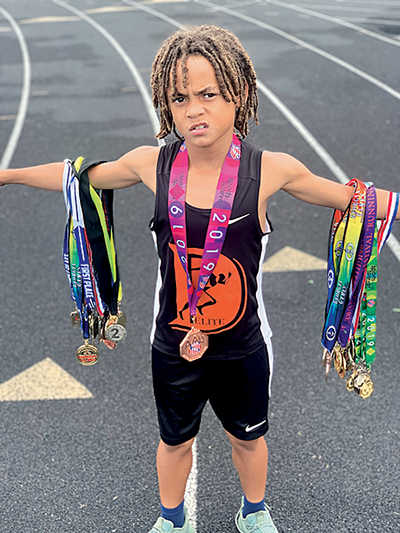 Kohbe Ward of Farragut, 9, finished seventh in the nation in the 800-meter run during the AAA Junior Olympics in Greensboro, North Carolina held Saturday, July 27, through Saturday, Aug. 3.

This Farragut Intermediate School fourth-grader — who is trained by his dad, James Ward Jr., and coached by his grandfather, James Ward Sr. — earned All-American status while running a personal best time of 2:35.18 in the 800 and finishing No. 2 statewide and in the region.

Undefeated and ranked No. 1 statewide and regionally in the 800 in 2018, Kohbe finished 15th nationally.

He also qualified in the AAU Junior Olympics 400-meter dash after finishing second in the state and sixth in the region, and as a leg in the 4 X 400 relay (winning both state and regionals).

Last year In the 400, Kohbe was No. 1 in the state and third in the region before finishing 35th nationally.

In just three years running the 800 and 400, Kohbe has won 37 medals overall (21 gold, nine silver and six bronze medals).