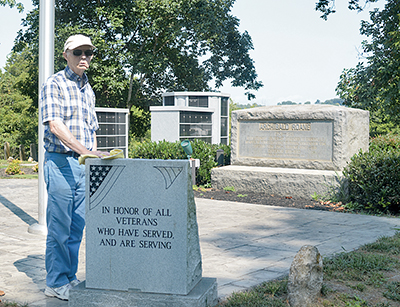 Dr. Michael Karnitz, Pleasant Forest Cemetery board president and caretaker, stands at the new Gov. (Archibald) Roane Plaza, where the cemetery board placed a stone to honor all veterans and three columbariums, which hold cremation urns, in the historic segment of the cemetery along Concord Road.

Pleasant Forest Cemetery, which has served the Farragut community since 1796, has found a way to serve in another fashion.

Its board has added three columbariums, which combined hold 168 slots — each accommodating two urns for cremations on the new Gov. Roane Plaza.

The hexagonal columbarium holds 72 slots while the two rectangular columbariums each hold 48.

The gray granite structures, with black granite covering the slots, is set on the stamped concrete plaza, which also features the headstone of Gov. Archibald Roane, the second governor of Tennessee, along with a stone honoring all veterans.

"We sold a half dozen (slots) already," said Dr. Michael Karnitz, Pleasant Forest caretaker and board president.

"What we're trying to do is serve the community – that's part of our mission," he added. "And we think with the amount of cremations going on, we believe we need to serve that community.

"Over 60 percent of the burials are cremations now."

They started the concrete work on the project in May and added the columbariums in June and July.

"So, it is relatively new," Karnitz said.

Karnitz said the plaza was placed on the older part of the cemetery to complement its historic section.

The cemetery encompasses 6 ½ acres that has 1,000 graves — and still has 30 full-scale burial plots available.

In its parklike setting, Pleasant Forest, which is non-profit, is the final resting place of 120 veterans, among them four Revolutionary War soldiers and five Civil War veterans. They are joined Gov. Roane and Col. David Campbell, also Revolutionary War veterans.

"It's a historic cemetery with Revolutionary War and the Civil War veterans," Karnitz said.

"It's the second oldest cemetery in Knox County."

He added the oldest one is at the Presbyterian church in downtown Knoxville.


"I believe (the downtown cemetery) is full," Karnitz said.