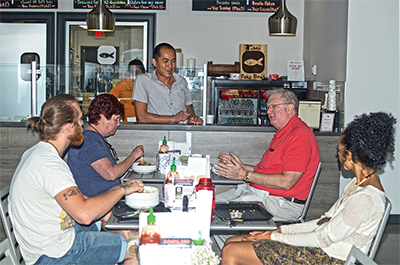 Tomo Poke Bowl owner Patrick Rathida, center, chats with customers.

Patrick Rathida has brought a new food trend to Hardin Valley, where he has opened his second store, Tomo Poke Bowl at 10756 Hardin Valley Road.

Rathida also has a store in West Knoxville, which he bought in 2013.

"Poke has been a trend," he said. "It took me a whole decade to perfect."

However, "I think Knoxville is ready for it," Rathida added. "Hardin Valley is growing. I figured we need something different out here, and I love to cook. I love serving people. I enjoy sharing the experience that nobody else has.

"In Hardin Valley I have found, surprisingly, like a lot of people who come and try my food, they say, 'Oh, I've been to Hawaii before … I don't know.' And, once they try it, they love it."

"It's the best food in town," said Tacie Hall, a customer who came in Thursday, Aug. 15.

"That's what I love about it — the feedback from people," Rathida said.

Rathida explained a tomo poke bowl, or sushi in a bowl, is a fusion of Japanese and Hawaiian fare.

While poke is Hawaiian, tomo is Japanese.

"The Japanese fusion that comes into it is the raw fish — tuna, salmon, yellowtail — all the ingredients that go into the sushi and make it into the poke bowl" he said. "This is a new way to eat sushi.

"Poke just started to get popular here in the last 15 to 18 years," Rathida added. "I heard about the concept a long time ago. I didn't do anything about it because I didn't think it would be ready in Knoxville.

"Before I decided to open this poke store I actually went to New York and tried all the poke stores there." .

The tomo poke bowl is made to the customer's tastes, starting with the basics — sushi, steamed or brown rice or salad greens. Then, Rathida adds the protein — fresh tuna or salmon, both from Hawaii; fresh hamachi from Japan; sushi-grade scallops; steamed shrimp; tako (octopus) or tofu, he said.

The next step is the mix-in vegetables, such as gobo, or burdock root, edadame, oshinko, which is pickled Daikon radishes. He also offers a choice of 10 sauces.

The final step is the toppings and crunches, such as avocado, fried gyoza crunch or fried onions.

Rathida, who has lived in Knox County for the last 22 years, said he worked his way up from employee to ownership at his original location just past West Town Mall along Kingston Pike.

Tomo Poke Bowl in Hardin Valley is open from 11 a.m. to 9 p.m., Monday through Saturday and closed Sunday. It also offers live music once a week and delivery through Bite Squad. They also takes orders online at www.knoxpoke.com.