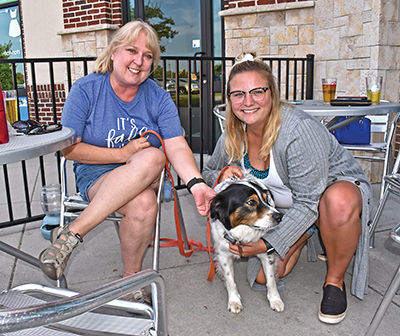 Gloria Robles, left, with her dog, Dakota, and Nikki MacDonald enjoyed the patio of the newly-opened Admiral Pub Wednesday, Aug. 7.

The Admiral Pub opened to an enthusiastic crowd Wednesday, Aug. 7, in the location formerly housing The Casual Pint, 143 Brooklawn St. in Farragut.

Throughout the day, owner Andy Fox and his wife, Whitney, welcomed patrons to their newest establishment and showed off a freshly painted interior, walls filled with still-life portraits from local photographer Al Harris and an updated brightly-lit dart room dedicated to the Town's namesake, Admiral James David Glasglow Farragut.

"The lighting and the colors are a little softer," said Andy, who also manages The Admiral Pub. "We are also offering different beers — not just craft beers — but also have domestic beers, too."

There are plans to serve "high-end pub" fare, such as chicken wings and pizza, in the coming weeks, and Fox ultimately plans to add wine and a more extensive food menu as the bar evolves in the coming months.

In addition to an extended menu, plans for the future include classic pub and arcade games, Fox said.

The Admiral Pub opened exactly a week after The Casual Pint shut its doors, and Fox praised its owners, Pat and Barb O'Brien, who hosted a bustling farewell party as they closed down their business Wednesday, July 31.

Fox said he has taken great pains to maintain the "neighborhood bar atmosphere" that first drew him to The Casual Pint. Much of the same fixtures, tables and chairs remain, as does the staff.

Maria Grayson, a family friend of the Foxes, was among those celebrating The Admiral Pub's opening. She, along with Candi Crafton, said their husbands met Andy Fox at The Casual Pint, and a friendship flourished among the wives, too.

"That is how we met all these great friends," Crafton said.

Whitney is overseeing marketing and social media for The Admiral Pub, and makes regular updates on Instagram, @theadmiralputfarragut and on Facebook, as The Admiral Pub Farragut.

Fox hopes to expand already established traditions of friendly gatherings on the patio or inside the pub — talking or watching sports on the big screen TV's — by offering regular Trivia (weekly Sunday Trivia begins this Sunday, Aug. 18, from 6:30 to 10 p.m.) and Dart nights, live music and support for local charities — a commitment the O'Briens maintained throughout their ownership of The Casual Pint.

"I can't say enough good things about them," he continued. "They did a lot for the community while they were here."

Andy Fox is establishing his own footprint, too, in naming the business after the Admiral, whose pictures and portraits fill the Dart Room, where a natural opportunity presented itself for him to add World War II ocean battleship pictures he had inherited from his grandfather.

That military focus extends to discounts offered to active and retired military members, who will receive a 15% discount on all food items and non-alcoholic beverages, Fox added.

Hours are from 3 to 10 p.m., Monday through Thursday, noon to midnight Friday and Saturday, and noon to 10 p.m., Sunday. For more information, call 865-218-1350.