A Big Splash!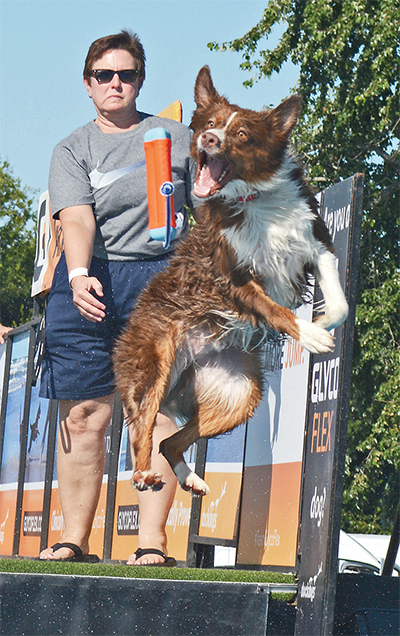 Whiskey, a 1 ½-year-old Australian shepherd, made a big leap-and-grab attempt while watched closely by owner LeeAnn Duckett.

Third Annual Dog Daze Dock Dogs national pool-jumping competition, hosted by Shop Farragut/Farragut Business Alliance, continues to explode in popularity as it breaks records in participation and spectators.

"We're excited about the numbers," Steve Krempasky, Shop Farragut executive director, said Sunday about the three-day event in the parking lot of Village Green Shopping Center Friday, Aug. 16, through Sunday, Aug. 18. "We've have over 5,000 people."

The Farragut Dock Dogs event was the last regional competition in the Southeast where dogs/owners could earn points for the national event, which takes place at the end of September.

"We've had a lot of new competitors this year," said Trent Steele, president of Smoky Mountain Dock Dogs.

Steele said about 240 dogs – 40 dogs in six waves — competed this year, an increase versus last year's numbers.

"We've had competitors from all over the Southeast — from Virginia Beach to Cape Coral, Florida," he said, adding he has seen the numbers grow from the first year it was held in Farragut (2017).

While Steele said the first event in Town was "pretty big," he added, "it has just exploded since then.

"We hope to be back next year."



This year's winners are:

• Pro Big Air:

Crystal McClaran and Asgard of Cape Coral, Florida, first place; Matthew Bohn and Kratos of Beaver Creek, New Hampshire, second place; Crystal McClaran and Congo, third place.

• Semi-Pro Big Air:

Hannah Wolf and Skye of Oak Ridge, first place; Cassie Hancock and Kander of Durham, North Carolina, second place; and Michael McGrew and Jaxx of Niota, third place.

• Contender Big Air: Jennifer Davis and Sid of Atlanta, first place; Jennifer Belle and Buckeye of Knoxville, second; and Rebecca Grove and Django of Cumming, Georgia, third. • Amateur Big Air: Timothy Lake and Allura of Graham, North Carolina, first place; Chuck Groves and Jonah of Cumming, Georgia, second; and Lisa Hudgens and Kicsit of Knoxville, third. • Extreme Vertical: Bohn and Kratos, first place; McClaran with Congo, second; Wolf with Skye, third.

• Speed Retrieve: Bohn and Kratos, first place; Wolf and dog Ryah, second; and McClaran and Congo, third.

• Iron Dog: Bohn and Kratos, first place, McClaran and Congo, second; and McClaran and Asgard, third.



See more photos from this event in Westside Faces.