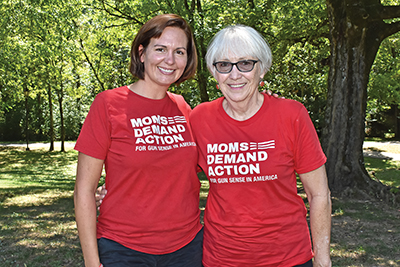 Farragut residents and Moms Demand Action members Lisa Plawchan, left, and Diane Matherne.

On what was the hottest day of the year so far, nearly 200 volunteers turned up the heat even more on the issue of gun safety.

The local chapter of the grass roots organization Moms Demand Action hosted a "Recess Rally" at the Howard Baker Federal Courthouse in downtown Knoxville Sunday afternoon, Aug. 18, specifically "demanding action from our senators to pass background checks and Red-Flag law legislation," said Farragut resident and chapter co-leader Jodi Scheer.

"It is my understanding that (U.S. Senator) Lamar Alexander (R-Tennessee) is open to legislative solutions, and he has said something can be done with background checks," Scheer added. "I know he is retiring, but I hope he can leave a legacy of a safer Tennessee and a safer country when leaves the senate."

The rally was organized in response to the latest U.S. mass shootings Aug. 3 in El Paso, Texas, and Aug. 4 in Dayton, Ohio, in which 31 people lost their lives, and was just one of dozens of Recess Rallies that took place across the country over the weekend.

In addition to Scheer, speakers included Zenobia Dobson, the mother of Fulton High School student Zaevion Dobson, whose death shielding classmates from gunfire drew national attention.

"I think we had a really good turnout," Scheer said. "It was the hottest day in three years, and to get that many people out on such a hot Tennessee day was really amazing."

The group continues to encourage supporters to text "Checks" to 64433 to keep up the pressure until the Senate reconvenes next month. This is just the latest legislative focus Moms Demand Action has had since the organization was founded by Shannon Watts in the days following the mass shooting at Sandy Hook Elementary School Dec. 14, 2012, in which 26 children and teachers were murdered.

According to the Mom's web site, Watts took to Facebook with the message that all Americans can, and should, do more to reduce gun violence.

Though founded by a mother, Moms refers to its membership as "mothers and others," said fellow member and Farragut resident Diane Matherne, who also attended Sunday's rally.

"We have moms, dads, grandparents — anyone who is concerned about gun safety or has been touched somehow by gun violence," she added, noting Sandy Hook had an impact on her, too, and eventually spurred her into action with the organization she said is "strictly bi-partisan.

"We support the Second Amendment and have many NRA members and gun owners in our group," Matherne added.

"You can respect the Second Amendment, and still support common sense gun legislation," Scheer said. "They are not mutually exclusive.

"We are on the same page with the gun-owning community — to keep our families and communities safe."

Matherne, Scheer and Lisa Plawchan, also of Farragut, were part of the local chapter's leadership team who were in Washington, D.C., for the group's annual conference when the latest mass shootings occurred.

What had started as a weekend of encouragement quickly devolved as news of the shootings spread.

"You could have heard a pin drop," said Plawchan, who was so upset she joined a group of Moms Demand Action protesters who marched to the White House in response.

"No place is safe," she added. "We shouldn't have to live in fear, but it is the unfortunate reality of living in America today.

"Accidental shootings, suicide by gun, gun homicide, domestic shootings, are all part of the

equation. And, it is uniquely an American problem. Gun violence is 25 times higher than any other high income country in the world."

The local chapter of Moms Demand Action meets monthly, and its next meeting on Sept. 10 feature Knoxville Mayoral and city council candidates who will discuss gun safety issues.

"It is on my mind every single morning when I kiss my son goodbye when he leaves to go to school," Scheer said. "One hundred people die from gun violence in the United States every single day — nearly four in Tennessee every day."

For more information, visit their Facebook page, Moms Demand Action – Tennessee.