Town, Kingston Pike in path of LA man's 'America Walk' for St. Jude Children's R-Hospital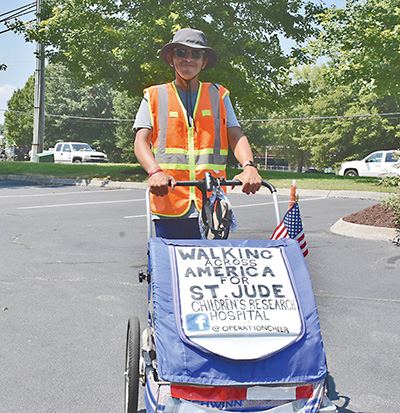 Mario Landeros walked through Farragut last week as part of his cross-country trek, raising funds for St. Jude Children's Research Hospital. He was hard to miss, wearing a safety vest and pushing his cart that prominently displayed his mission.

Mario Landeros has put his life on hold while he does what he can to help ailing children at St. Jude Children's Research Hospital.

Even though Landeros doesn't have any youngsters of his own, he said he feels especially burdened for sick children and currently is in the midst of his second fundraising walk across the country for the world-renowned Memphis hospital.

The Los Angeles, California native started this journey in Boston in April, and is expected to remain in Tennessee into September. He walked through Farragut last week, and hopes to wind up at St. Jude's before his 46th birthday, Sept. 5.

"I do it for the kids — they are my motivation," he said as he took a short break Tuesday, Aug. 20, along Kingston Pike near First Baptist Concord. "What these kids have to go through makes the challenges and difficulties I face on the road seem insignificant."

Landeros said he tries to put in at least 30 miles every day before stopping for the night, typically at a public campsite. He is hard to miss, sporting a full-coverage sun hat and sunglasses while wearing an orange safety vest and pushing a small cart, proclaiming his mission in oversize lettering. The cart holds very little beyond a tent, sleeping bag, food, clothing and incidentals Landeros is protecting from any chance rain.

Walking from place to place is natural for Landeros, who said he has never owned a car — and doesn't even have a driver's license. In Los Angeles he walks, rides a skateboard or takes public transportation.

Landeros was really touched by the generosity and friendliness of Tennesseans he encountered.

"People here are amazing," he said. "Just today, four people offered to help me, either by offering me a ride or buying me lunch.

"I have had a lot of offers along the way for places to stay or for people to pray with me," he added.

"People have been very kind."

He said he began working with youngsters in the mid 2000s, volunteering with organizations such the Starlight Children's Foundation and, later, the Boys and Girls Clubs, and the experiences led him to contemplate those children who find themselves facing cancer.

"I was really struck, I guess, in the same way (St. Jude's founder, actor/entertainer, the late) Danny Thomas said, that I don't think a child's life should end prematurely from cancer before they have the chance to actually experience life.

"I started fundraising and started thinking about what I could do to raise more money than before," he added. "The idea, to walk across the country, first came to me in December 2011. I talked and talked about it before deciding to actually do it, and on May 7, 2012, I took off."

Landeros' professional background involved working with studio musicians. The first time he walked the country for St. Jude, he funded the venture by selling off most of his equipment.

That trip, which began in Los Angeles, concluded Oct. 30, 2013, in Portland, Maine, and raised $13,000 for the cause.

In the years that followed, Landeros decided he would make another cross country fundraising trip, this time starting on the East Coast, with plans to eventually conclude the trip back in Los Angeles.

He regularly updates his progress on Facebook @Operation Cheer, on Instagram at operationcheer_thenextstep and on Twitter at operation_cheer.

To donate to the cause, visit fundraising.stjude.org/goto/operationcheer, or to help fund Landeros' journey, donations may be made via Paypal to operationcheer@gmail.com or through Venmo @mariolanderos.