Belleza fashion show to help Alzheimer's TN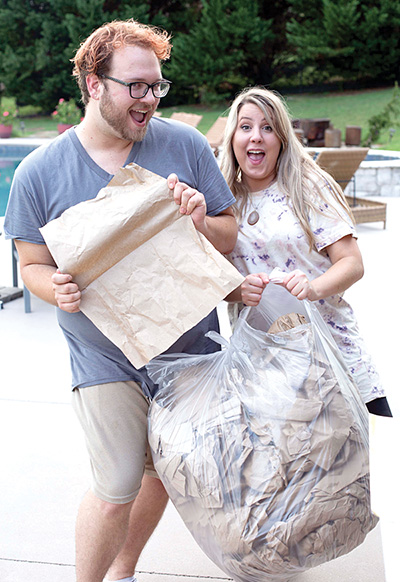 Belleza Salon, Spa and Men stylists David Morrisette and Jessica Nord plan to use recycled paper for their outfits for "Ancient Stylizations" at the fundraiser.

Belleza Salon, Spa and Men is raising money for Alzheimer's Tennessee by presenting a fun night on the town with a fashion show and more.

The event is scheduled from 6 to 8 p.m., Sunday, Sept. 8, at Emporium Center, 100 S. Gay St., in downtown Knoxville. Tickets are $25 each for the general public but $10 for students of beauty schools.

They can be purchased at blza.com, by visiting either of Belleza's salons, 11467 Parkside Drive in Turkey Creek and 6209 Kingston Pike in Bearden, and at the door, where tickets will remain $25 and $10.

"We're calling it 'Ancient Stylizations,'" Holly Rainey, marketing director for Belleza, said about the show. "We are so honored to be raising money for Alzheimer's Tennessee.

"It's a statewide organization that impacts advocacy, education and lots of different aspects of the Alzheimer's community," she added. "It has a very big presence in Knoxville, so we thought it would be great to partner up with an organization that makes such a big impact.

"All the money from ticket sales, our cash bar and our silent auction will go to Alzheimer's Tennessee."

Along with the show, the event also will feature food, wine and beer being served, as well as the silent auction.

"We are just so excited," Rainey said. "We think it will be a great way to show off all of our stylists' talents.

"I think it will be a fun night out."

Belleza had a fashion show as entertainment two years ago for a client who holds a charity masquerade ball at Fox Den Country Club, Belleza stylist Chely Green said.

"In years past, (the show has) been a fundraiser for the Dream Connection for a few years," Rainey added.

She explained the main premise of the show is a competition between the salon's Level 1 stylists, who will be vying for money to fund their education.

"Each group of stylists has a different civilization," Rainey said. "They have to run with that civilization, from head to toe, and come up with hair, make-up, outfits, everything."

For example, Green will be using the Rome as her inspiration to style her models.

Other civilizations depicted will include Greece, Aztec, Mayan, Egypt, Indus Valley and Persian.

"My partner and I have to come up with three models," she said. "Two of our models have to be the ancient version of whatever our (civilization) is, and our last one is a futuristic Roman version."

Unlike most fashion shows using a runway, however, this fashion show allows patrons to get up close and personal to the models to see what the stylists create, Rainey said.

"We will have the models on display, more like an art opening," she added.

"We worked so hard, and when you have a runway, it's just over too quickly and you really don't get to see the details of all the work we put into it," Green said. "So, when (models) are put up on podiums for people to walk around and view as much as they want, it makes us feel better.

"And (attendees) like it better," she added. "This way, everybody can make their way around and get as close as they need to."

"We have 12 stylists participating, but five are actually educators" who will be participating in a separate category, Rainey said.

"The stylists put in countless hours coming up with the idea, producing the headpieces, finding the models," she added.

Belleza's Turkey Creek hours are from 10 a.m. to 9 p.m., Monday through Thursday; from 9 a.m. to 8 p.m., Fridays; from 9 a.m. to 5 p.m., Saturdays; and closed Sunday.

In Bearden, its offices are open from 8 a.m. to 8 p.m., Monday, Tuesday, Thursday and Friday; from 9 a.m. 5 p.m., Wednesday; from 9 a.m. to 4 p.m., Saturday; and closed Sunday.

For more information, call 865-558-8424.