Passing game clicks, CAK rolls at Clinton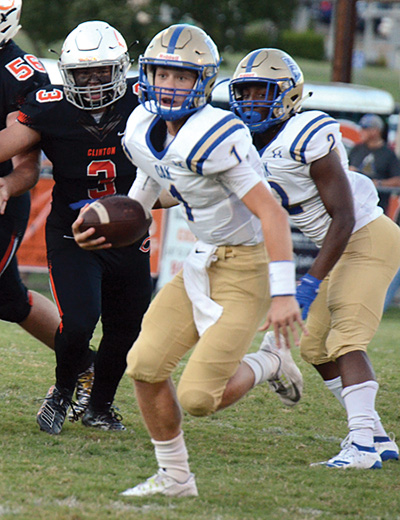 CAK quarterback Ryan Degges finds room to run on the Clinton defense.

CLINTON — Ryan Degges, Christian Academy of Knoxville junior quarterback, passed for 261 yards and two touchdowns, both to sophomore Grant Sterchi, as the Warriors start the 2019 football season 2-0 following a 24-14 win at Clinton Friday evening, Aug. 30.

Degges connected with Sterchi on scoring passes of 23 and 59 yards, completing 24-of-31 attempts with two interceptions.

Jarvis Stockton Jr., a sophomore, added a 4-yard scoring run to break a 14-14 tie with 3:01 left in the third quarter.

Zander Tonkin, a senior, added a 36-yard field goal to give the Warriors a two-score lead with 9:29 left in the fourth quarter.

Also converting all three of his extra point attempts, Tonkin punted once for 44 yards.

Although falling to 0-2, the Dragons outgained the Warriors on the ground 142 versus 83.

Other Warriors contributing in the passing game were receivers JD Presley with eight catches for 50 yards; Caleb Sparkman, 7-for-58; Max Smith, 5-for-23; and Gabel Fulford, 2-for-48.

CAK defense

Sherchi intercepted a pass while teammate Noah Olsen, a junior defensive end, recovered two fumbles.



Catholic wins on road versus strong Ky. team

~ Courtesy Jeff R. Patton

CORBIN, KY. — Zooming ahead 14-0, Knoxville Catholic (2-0) rallied in the final two minutes for a 31-28 road victory against Kentucky power Fort Thomas Highlands Saturday, Aug. 31.

Keondre' Jarmon's 1-yard scoring run with 1:59 to play in regulation put the Irish up for good.

Tommy Winton touchdown runs of 22 and 72 yards, part of Catholic's 372 yards on the ground and 559 total yards, got things started well.

Quarterback Jack Jancek's 1-yard touchdown run made it 21-7 Irish in the second quarter.

Paxton Robertson's 28-yard field goal midway through the third quarter broke a 21-21 tie.