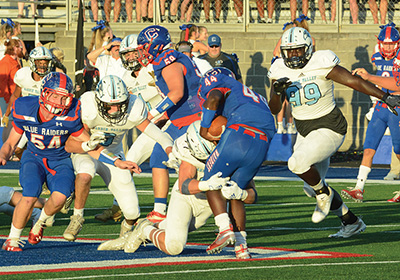 Luke Filipkowski, Hardin Valley Academy senior linebacker, makes a textbook tackle on Cleveland running back Tito Boyd, as HVA defensive back Jonah Smith, left, and lineman Devon Jones (99) react Friday evening, Aug. 30, at CHS. The Blue Raiders won 31-19.

CLEVELAND — Leading 13-7 at halftime against Cleveland at CHS, Hardin Valley Academy would be stunned by a pair of long touchdown passes and costly turnovers — including an interception returned for a touchdown — during the game's final 24 minutes.

The result was a 31-19 Blue Raiders victory, as the Hawks (1-1) wasted two Kelton Gunn first-half touchdowns, including a 76-yard middle screen score giving HVA head coach Mike Potter's team its 13-7 lead.

"A disaster," Potter said about his team's second half. "Five turnovers, a blocked punt, dropped balls, beaten deep in coverage."

Third-quarter touchdown passes of 52 and 67 yards from Cleveland quarterback Gage Kinsey — both on third-and-long situations — gave the home team a 21-13 lead.

Moments later, the Blue Raiders' "pick-6" went 35 yards and made it 28-13 at with 2:29 left in the quarter.

With the Hawks fumbling away the ensuing kickoff, Cleveland cashed in with a 35-yard field goal in the final seconds of the third quarter, making it 31-13.

But not all was lost, as Hardin Valley marched 52 yards set up by Gunn's 15-yard run, a 13-yard scramble by senior quarterback Jacob Smith and his 11-yard pass to Cameron York.

The senior QB then found senior Charles Robertson, lobbing a 9-yard scoring pass to the senior receiver with 8:33 left in the game. A 2-point conversion pass fell incomplete.

But on the ensuing pooch kickoff near the right sideline, no Cleveland player reacted to the ball in time, and Hawk Treston Thomas recovered the live ball at the Blue Raiders 23.

But despite running eight plays while picking up a first down on a fourth-down pass interference penalty, Hardin Valley lost possession when a Smith fourth-down pass fell 1 yard short of a first down at the CHS 2 with 5:35 to play.

A fumble on the next Hawks possession, following a first-down pass reception inside the Cleveland 35, was recovered by the Blue Raiders with 2:10 to play.

"We just started messing up, but we didn't give up," said Jaylen Moore, HVA senior defensive lineman.

First half highlights

Down 7-0 in the first quarter, Hardin Valley answered Kinsey's 17-yard TD pass with a 66-yard drive to tie things.

A 19-yard Gunn scamper and runs of 19 and 11 yards from sophomore running back Ryan Nichol set up Smith's 2-yard scoring run.

John Aragon's conversion kick tied the game 7-7 with 1:20 left in the opening quarter.

Luke Filipkowski, HVA senior linebacker, had two minus-yardage stops in the first half.