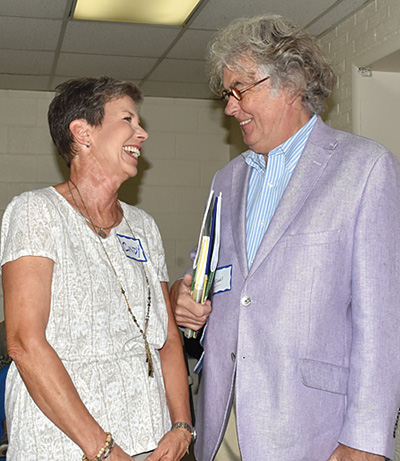 Knoxville attorney Dennis Francis was the first guest speaker for the Grandfamilies Together support group meeting Saturday, Aug. 10, in Virtue Cumberland Presbyterian Church. He talked to Cindy Winchester, VCPC secretary who helped organize the event on behalf of the church, prior to his speech.

Knoxville attorney Dennis Francis spoke from the heart and shared his own personal experiences as both a lawyer and a grandparent raising a grandchild during last month's inaugural meeting of West Knox County's Grandfamilies Together support group.

The initial meeting gathered nearly two dozen men and women at Virtue Cumberland Presbyterian Church Saturday, Aug. 10, and was the resulting collaboration between the church and the Knoxville-Knox County Community Action Committee's Office on Aging's Grandparents as Parents program.

GAP Program director Tracy Van de Vate, who has been working with VCPC secretary Cindy Winchester on adding what is the second area Grandfamilies Together support group — this one serving the West side of Knox County and surrounding counties — were both on hand to welcome the group and offer light refreshments.

In introducing Francis, Van de Vate said, "He has been wonderful to me and my family for years, and we consider him a friend. He is a fabulous attorney, and he is a grandparent, raising a grandchild, and understands what you are all going through."

Francis, who has been an attorney for 45 years, was very blunt about the turn his life took five years ago.

"My oldest daughter decided that being drug addict was more important than being a good citizen and a parent," he said, adding that when she gave birth, her son weighed only 5 pounds and was addicted to heroin. He spent the first 28 days of his life hospitalized in a Neonatal Intensive Care Unit before going home with Francis and his wife.

He said the first step for any grandparents raising grandchildren is "to first try to get legal custody.

"You must because your child can't or won't be a parent," he added.

He suggested going through Juvenile Court to petition for custody.

"Absent a court order, you have no more authority than a total stranger (over your grandchildren)," Francis said.

"What happens if you don't have legal custody?" he asked. "You can't enroll them in school, you can't get them medical help."

Francis told the gathering they needed to make sure they have the child's birth certificate and that the child was granted a Social Security number.

"That child needs a separate identity from you," he said.

He also mentioned terminating parental rights.

"Biological parents might tell you they will never interfere with the raising of their child," he said. "Well, they do, and it runs the costs up dramatically."

He said that termination requires legal process, lawyers and a court order.

"You have to have grounds to terminate," he added.

"I may seem hard, but we are the safety net from folks who are too damn lazy to go to work and can't keep car insurance."

Francis told the group they needed to carefully choose a

lawyer when working on child custody or adoption issues, and praised the senior services directory and other materials Van de Vate has available through her office.

"Get references for attorneys," he added. "Look at their credentials."

He acknowledged the difficulties facing the members assembled.

"All these things we are talking about are emotional and life-

altering for yourself, your children and your grandchildren," Francis said. "It's hard, but you need to look at what is best for the child."

Grandfamilies Together will next meet starting at 10 a.m., Thursday, Sept. 12, in the church.

Guest speaker will be Sue Ownby with Knox County Schools.